Theme: Thriving Neighbourhoods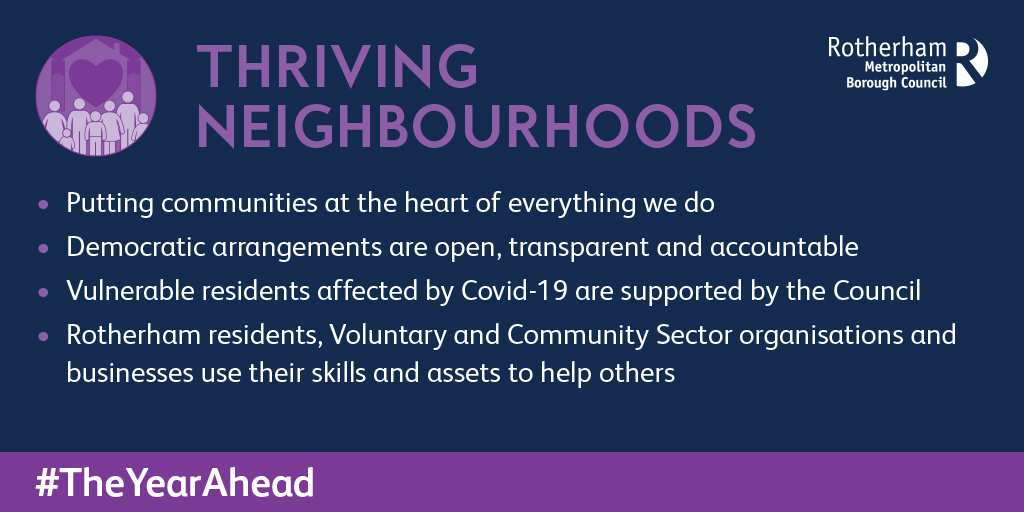 During the pandemic there have been numerous examples of communities coming together to support each other. Building and supporting community resilience and working together to move on from the crisis positively and safely is vitally important.
We'll continue to deliver the Thriving Neighbourhoods Strategy, working with residents to make a difference locally. We will learn from the experience of the pandemic to provide effective support to those affected by Covid-19, particularly the most vulnerable residents. In addition, we will continue to build on established positive collaborative working with the voluntary and community sector.
The Council aims to achieve this through the following outcomes:
Putting communities at the heart of everything we do:
Through our neighbourhood working, ward members will continue to provide practical support to isolated and vulnerable residents and to drive local activity and delivery of local improvements.
Democratic arrangements are open, transparent and accountable:
By adapting our decision making and democratic processes to deliver services virtually and supporting members with new ways of working through our new member development programme.
Vulnerable residents affected by Covid-19 are supported by the Council:
We will ensure that we capture learning from the community hub and continue to provide support when needed, including emergency food provision. Working with our partners we will develop additional provision using the DEFRA hardship funding and establish our new team to support rough sleepers.
Rotherham residents, Voluntary and Community Sector organisations and businesses use their skills and assets to help others:
The Council will continue to work alongside local community organisations, businesses and volunteers, applying the learning from the community hub. This will include supporting Rotherham Hero volunteers and further developing an asset-based approach, utilising the strengths of local organisations and residents.