Theme: Economic recovery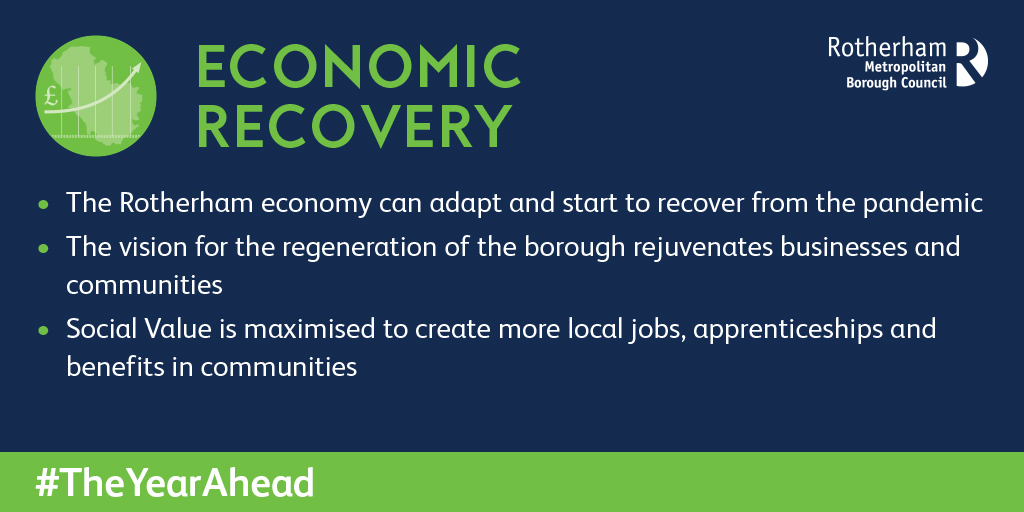 Economic recovery and renewal is critical for the future success of our borough.
We are committed to working with local businesses, the city region and national government to ensure that Rotherham gets the investment it needs to support and build the local economy for the future.
Focusing on place and social value as well as employment, business support, and school attainment, our economic plans are being refreshed to adapt to future challenges.
The vision for our economic approach is to achieve the following outcomes:
The Rotherham economy can adapt and start to recover from the pandemic:
The Council is playing an active role in the development of the Sheffield City Region economic recovery plan which incorporates:
People – helping people to find jobs and adapt to the new economy
Employers – supporting employers to adapt and survive
Place – infrastructure investment
Rotherham's economic plans will reflect these priorities, bringing benefits to local businesses and residents.
The vision for the regeneration of the borough rejuvenates businesses and communities:
Plans will be progressed for three significant phases of economic regeneration:
the development of Forge Island
the regeneration of the markets and library via funding from the government's Future High Streets fund
the Towns Fund, which will include a range of schemes in and around the town centre including new homes.
Social Value is maximised to create more local jobs, apprenticeships and benefits in communities:
As part of our social value commitment we aim to maximise the value of every pound spent. Further opportunities for social value development will be identified through commissioning models and will be an integral part of all Rotherham regeneration programmes. We will also explore new and innovative delivery models that build social value, and work with our partners to identify social value opportunities.