Theme: New ways of working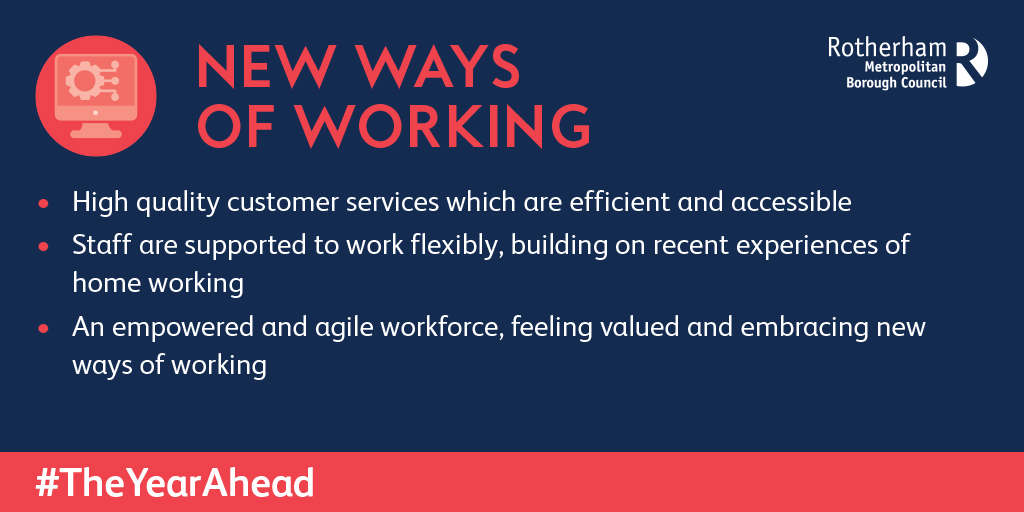 In response to the pandemic, the Council has rapidly adapted and embraced new ways of working.
This will see further steps taken to support our staff and improve outcomes for local residents; utilising technology, acting on feedback and continuing to evolve to meet current and future challenges.
The outcomes for this theme are:
High quality customer services which are efficient and accessible:
The Council will continue to develop and improve www.rotherham.gov.uk as the 'go to' place for all Council information. Our aim is to keep accessibility at the forefront of service design; enabling as many people as possible to self-serve online whilst also continuing to provide assisted access for vulnerable customers and those who are unable to access services digitally. We will also make use of new technology, to give people greater choice about how they digitally access services.
Staff are supported to work flexibly, building on recent experiences of home working:
A review will be undertaken to assess how we can develop and implement a range of flexible working policies to positively impact on work life balance, staff engagement, productivity, and retention. This will include a review of the use of Council buildings.
An empowered and agile workforce, feeling valued and embracing new ways of working:
Following consultation and engagement with staff, learning from the Covid-19 response will be used to shape organisational development, building the capability required to deliver the Council's priorities.