Theme: Hope and confidence in Rotherham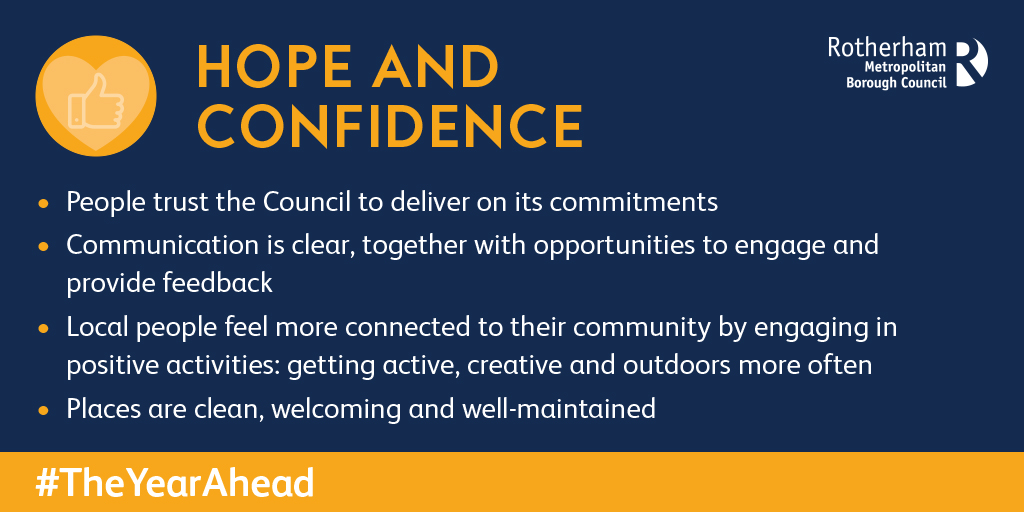 2020 has been a really difficult year for many people and there remain significant challenges ahead. In this context, more than ever, we want residents to feel confident, well informed and able to take part in the community.
Through this theme, the Council aims to foster a sense of optimism within Rotherham. This will be achieved by delivering on the commitments set out across the themes in this plan, by engaging with local people and giving them the chance to tell us how we're doing and what we could do better, by keeping our streets and public places clean and welcoming, and by providing a range of activities that inspire joy and hope.
The theme focuses on the following outcomes:
People trust the Council to deliver on its commitments:
Delivery against all the Year Ahead Plan activities will help the Council to retain the trust of residents. Ongoing communication and engagement with our communities will also be vital.
Communication messages are clear, along with opportunities to engage and provide feedback:
The Council will build on the comprehensive engagement strategy developed during the pandemic, including promotion of the 'Keep Rotherham Open' campaign, increasing email subscriptions and generating regular content for digital and other communication channels.
Local people feel more connected to their community by engaging in positive activities; getting active, creative and outdoors more often:
A programme of events is being delivered which will explore themes of joy, gratitude and hope. This will include celebrating the contribution of key workers and volunteers, creating memorials for those who have lost their lives, and finding innovative ways to bring our communities together in a safe and appropriate way.
Places are clean, welcoming and well-maintained:
The Council will respond quickly to local environmental concerns, including fly-tipping, and improvements will be made to highways and street cleanliness.