Blue Badge abuse prosecutions continue
Published Thursday, 4th February 2016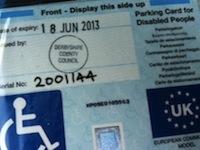 Another prosecution by Rotherham Council for blue badge misuse in Rotherham Town Centre has proved successful.
Linda Lewis, 51, of Jardine Close, Wincobank, Sheffield, pleaded guilty in court when charged with using her mother's blue badge to park her car in a 'pay and display' parking bay on Domine Lane, Rotherham, in September 2015.
When enquiries were made at the time of the offence, Lewis claimed that she had dropped her mother off at Tesco and was going to collect her. Investigations later proved that her mother was at home at the time and had not used the badge that day.
Lewis appeared before Rotherham Magistrates on Monday 25 January, and was fined £125 with £180 costs and £20 victim surcharge.
Councillor Denise Lelliott, Rotherham Council's Advisory Cabinet Member for Jobs and the Local Economy, said: "This is a further example of a blue badge being used for the convenience of people who are not entitled to use them."
"Drivers need to consider whether it is worth risking a criminal record to avoid putting 50p or £1 in a 'pay and display' machine. If we catch drivers using blue badges without the named holder present, we will prosecute where it is in the public interest to do so."
Report blue badge fraud