Rotherham Metropolitan Borough Council
People and businesses in Rotherham can learn about getting online and boost their digital skills for free as Google brings its Digital Garage Bus to Riverside House on Monday 4 December.
23 November 2017
---
A team of young people who inspect services delivered to children and young people in Rotherham has been nationally recognised for their work at a prestigious award ceremony in London last night.
23 November 2017
---
Rotherham Council is seeking to appoint an organisation to lead in the design and provision of voluntary and community sector (VCS) infrastructure services in the borough.
22 November 2017
---
Council leaders have welcomed the first sentences handed out to criminals as part historic investigations into child sexual exploitation by the National Crime Agency.
17 November 2017
---
With the weather expected to become colder over the coming weeks Rotherham Council is reassuring residents that it is prepared for winter weather.
16 November 2017
---
Rotherham residents are being invited to get in the festive spirit and book their panto place, as the stars of this year's show prepare to take centre stage!
16 November 2017
---
Members of Rotherham's Youth Cabinet are urging other youngsters to be confident with their body image as part of a raft of measures they want to focus on in the year ahead.
16 November 2017
---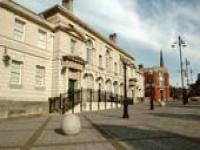 Time is running out for people to have their say on plans to reform Rotherham's council tax support scheme, as the Council considers its budget options.
15 November 2017
---
Can you help us discover who killed John Coe? Use your detective skills to find the clues around Clifton Park Museum and solve the mystery!
15 November 2017
---
Rotherham's Food for People in Crisis (FiC) Partnership has launched its annual Christmas Appeal.
14 November 2017
---
School children are doing their bit to stamp out bullying with a special event for around one hundred pupils at Rotherham's New York stadium today.
13 November 2017
---
On Saturday (11 November) a new exhibition will be opening at Clifton Park Museum to coincide with Remembrance Day.
10 November 2017
---
Householders in Rotherham are being reminded to check with the Council before carrying out any work on the pavements outside their properties.
9 November 2017
---
If you come down to Clifton Park Museum on Friday 17 November, you're in for a big surprise.
8 November 2017
---
Rotherham town centre will have lots of sparkle and family entertainment to begin the festive season at the annual Christmas Lights Switch-on.
8 November 2017
---
Looking for something a bit different, or a unique hand-made gift?
7 November 2017
---
The Toy Appeal partnership is hoping to bring some Christmas cheer to families in need with the launch of its annual Christmas Toy Appeal on 13 November at Parkgate Shopping.
7 November 2017
---
Women in Rotherham are being invited to walk through the town centre to Reclaim the Night on Friday 17 November 2017.
7 November 2017
---
Rotherham will remember its fallen this weekend with the annual service and wreath-laying ceremony in the town centre.
6 November 2017
---
The closing date is less than two weeks away for parents and carers to submit their views on possible changes to home to school transport arrangements.
1 November 2017
More from around Rotherham