Rotherham Council to remember victims of Brussels attacks
Published Wednesday, 23rd March 2016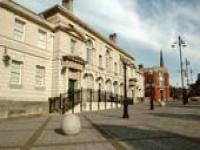 Rotherham Council is to hold a minute's silence today, Wednesday 24 March at 11am, in remembrance of those who were killed and injured in the terrorist attacks in Brussels yesterday.
Council staff and members of the public are invited to observe the minute's silence in council workplaces, or to join a gathering in front of the Council offices at Riverside House. The flag outside Riverside House will also be flown at half-mast as a sign of solidarity with Belgium in taking a stand against terrorism.
The Leader, Cllr Chris Read, will lead the act of remembrance at the Town Hall. He will also be sending a letter of support to the Mayor of Brussels later today, alongside the Mayor of Rotherham, Cllr Maggi Clark.
He said: "We have all, I am sure, been shocked and saddened by the terrorist attacks in the Belgium city of Brussels yesterday morning, which has caused devastation to many families and people. As a sign of our condolences to those who have lost loved ones and for those who are still injured, and in a sign of solidarity against these type of atrocities, we will be raising the flag to half-mast outside Riverside House and the Town Hall.
"This will be followed by a minute's silence at 11 o clock this morning across all our council premises, including the Town Hall and Riverside House. All council officers and staff, and members of the public, are invited to join in the remembrance for the victims."