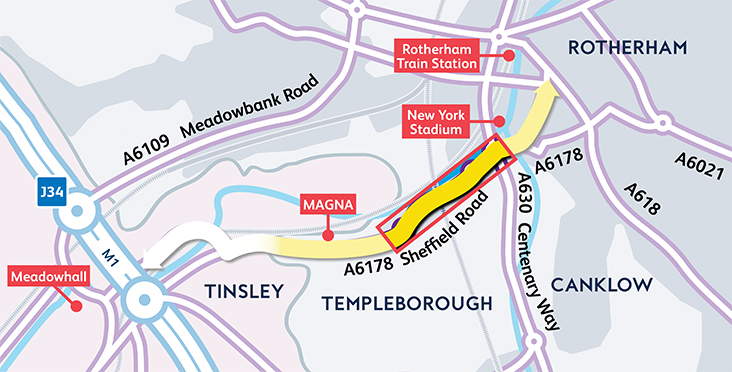 Phase 2 consultation is now closed.
Rotherham Council is making improvements on Westgate and the A6178 Sheffield Road to make it easier and more pleasant to walk and cycle between Tinsley and the town centre.
This will help to provide affordable and environmentally friendly travel to and from Templeborough, Tinsley and Meadowhall for Rotherham residents – whether to work, shop or socialise.
The scheme will be delivered by Rotherham Council with money from the Department for Transport's Transforming Cities Fund, subject to the final funding approval by Sheffield City Region.
The works will be completed in three phases:
Phase 1 - To complete in summer 2021, this includes adding new cycle tracks between the borough boundary and Bessemer Way.
Phase 2 (this consultation) - Adding new cycle tracks between Bessemer Way and Centenary Way.
Phase 3 – Improving walking and cycling options between Centenary Way and the town centre.
This document outlines the current proposals for Phase 2 of these improvements so that Rotherham businesses, residents and road-users can tell us their preferred options for specific aspects of the scheme design, and share general comments.
(Phase 3 will be covered by a separate consultation exercise, expected to take place later in summer 2021.)
Phase 2 timeline
Summer 2021 - Consultation on proposed scheme design
Winter 2021/22 to autumn 2022 – Construction (subject to Sheffield City Region funding approval)
Review the Phase 2 details (PDF)
To find out more about other projects to improve walking, cycling and public transport in our borough visit www.rotherham.gov.uk/travel