Rotherham Metropolitan Borough Council
People who live, work, study in and visit Rotherham are being asked about their leisure time as part of an online consultation.
23 October 2018
---
A public consultation is currently taking place on proposals to extend Selective Licensing of private rented housing to parts of Thurcroft and Parkgate.
23 October 2018
---
Rogue "charity bag" collectors, who divert donations away from genuine good causes, could be tackled under new proposals from Rotherham Council.
23 October 2018
---
Figures released by the Home Office this week indicate that reporting of hate crime has increased by 17% across England and Wales compared to last year.
17 October 2018
---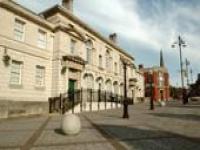 Rotherham Council intends to set a two-year budget for the first time in order to help deal with a further £30 million of required savings.
17 October 2018
---
Councillors, directors and project managers marked the halfway point in the refurbishment of Rotherham Interchange.
16 October 2018
---
Rotherham Council is thanking residents as Clifton Park is once again voted one of the nation's favourite green spaces.
16 October 2018
---
Extra enforcement staff are now on the streets of Rotherham to help tackle problems such as litter, fly-tipping, dog fouling and illegal parking.
15 October 2018
---
Rother Living homes are now available in Maltby as part of the latest major housing development from Rotherham Council, offering high quality and affordable homes in the borough.
12 October 2018
---
People in Rotherham are encouraged to get the flu vaccination to help protect themselves and their loved ones this winter.
11 October 2018
---
Handmade poppies from all over the world will be on display as Rotherham's market hall turns red to mark the centenary of the end of World War One.
10 October 2018
---
A woman who used her daughter's disabled parking badge to park in Rotherham Town Centre has been prosecuted by Rotherham Council.
9 October 2018
---
Passengers in South Yorkshire will be the first in the country to benefit from the innovative Tram Trains - a special tram vehicle.
8 October 2018
---
Visitors to Rotherham will have an additional 40 temporary parking spaces to use in the town centre from Monday (8 October).
4 October 2018
---
Inspirational children who have lived in care in Rotherham have been given a prestigious Princess Diana Award for their courage and efforts.
2 October 2018
---
Stoptober is back for its 7th year - and Rotherham smokers are being encouraged to join in with the biggest mass quit attempt in the country.
1 October 2018
---
Inspirational speakers, poets and performers motivated school children to recognise the "harms of hate" at a special event this week.
27 September 2018
---
Work has begun on the new Gulliver's family theme park resort – with the developers looking to open to the public in spring 2020.
25 September 2018
---
England will host Sweden at Rotherham's New York Stadium as they step up their preparations for next summer's 2019 FIFA Women's World Cup.
25 September 2018
---
Government-appointed Commissioners have left Rotherham Council following an announcement from the Secretary of State for Local Government.
24 September 2018
More from around Rotherham