Rotherham Metropolitan Borough Council
Hundreds of pupils across Rotherham have today scooped record A-Level results – as schools top last year's performances.
16 August 2018
---
The construction of the new University Centre in Rotherham has been officially finished enabling the delivery of degree courses and professional qualifications in the town.
13 August 2018
---
Knitters are being urged to come forward to help finish a cascading wall of poppies aimed at commemorating the centenary of the end of the first world war.
13 August 2018
---
Rotherham's celestial Festival of Angels project is set to return to the town and residents are now being urged to get their creative juices flowing.
6 August 2018
---
A rogue landlord who failed to carry out adequate gas and fire safety checks has been fined more than £2,000.
6 August 2018
---
Work has been proceeding apace as Rotherham Interchange's £12million refurbishment programme continues.
3 August 2018
---
Life-saving water throwlines are to be installed on the banks of the canal side near New York Stadium and in the town centre thanks to the work of Rotherham's Youth Cabinet.
1 August 2018
---
Rotherham Council has welcomed the opening of a new bar in the town centre as plans to make the area an attractive place to visit ramp up.
30 July 2018
---
Rotherham Civic Theatre are delighted to announce that this year they will be working alongside Imagine Theatre.
27 July 2018
---
Whilst residents might be enjoying the current warmer weather, they are also being asked to be prepared in case of higher temperatures over the coming days.
25 July 2018
---
Rotherham's allotments are set to begin a new chapter following agreement that allotment gardeners will have more of say in how Council allotments are funded and run.
24 July 2018
---
Motorists in Thurcroft will benefit from further improvements to one of the major roads through the village this summer.
24 July 2018
---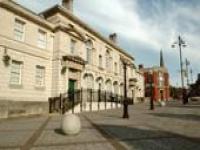 Rotherham Council leaders have welcomed the proposed return of the last remaining powers to come back under democratic control.
23 July 2018
---
United Caps, an international manufacturer of caps and closures, has announced it will be constructing a new manufacturing plant in Dinnington, Rotherham.
23 July 2018
---
Residents are being urged to spot the signs of modern slavery and report it through the use of a smart phone app that can be used while at a carwash.
20 July 2018
---
Major repair and resurfacing works to one of Rotherham town centre's major routes will take place from this weekend.
19 July 2018
---
Clifton Park has this week been recognised, for the eighth year running, by the Green Flag Award Scheme as one of the very best in the world.
18 July 2018
---
Older people with dementia in Rotherham have begun to share their life stories and memories with school children in an innovative new project.
16 July 2018
---
A former victim of domestic abuse has spoken openly about the harrowing abuse she suffered in order to encourage others to report it.
12 July 2018
---
Smokefree park signs created by local school children will soon be seen in outdoor play areas across Rotherham.
11 July 2018
More from around Rotherham