About Young Inspectors
A Young Inspector is a volunteer who inspects Children & Young People's Services within Rotherham Council. We are recruiting 11 to 24 years old to inspect services during school holidays.
Better Services, Brighter Futures
Would you like to have your say on the services delivered to children, young people, and their families?
Would you like the opportunity to be part of a young person inspection team and carry out activities?
Mystery Shop
Reality Check
Developing Surveys
Consultation
Focus Groups
And working together with other young people groups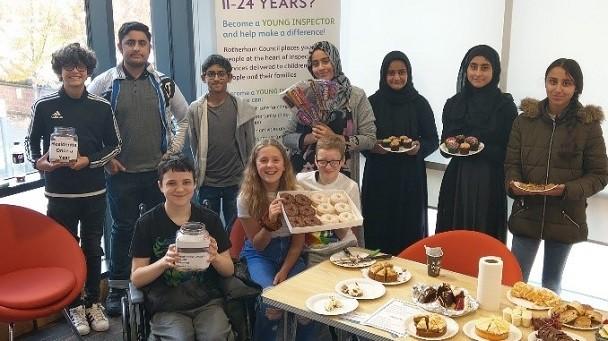 What it's like to be a Young Inspector
The young inspectors have told us what they like the most about being a young inspector
"I like being a Young Inspector because we go on trips, meet new people and it builds my confidence"
"I like the Young Inspectors as it helps my confidence skills"
"I like being a Young Inspector because we help people, make sure that people are safe, and we help people who are less fortunate than me"
"It's very interesting and fun to do as it allows us to get and experience. The people are very nice and do not judge"
"Easy to contact them and fast response, I take part in activities and meet new people and see new places. I learn new skills and build my confidence and I get to gain a certificate"
"The Young Inspectors makes me become a productive member of the community. Provides us with the skills that will asset us in the future e.g., Leadership. It builds my confidence. I get involved in things I wouldn't have ever done. Helps my community become a better and safer place for young people. I learn things about myself and my abilities that I would have known"
"I like the way everyone contributes and learns new things in every inspection or every meeting. I think I am really lucky to learn new things and that I can have a good experience as a young inspector, and I can socialise with other people"
The Team
Bev Pepperdine, Young Inspector Project Manager
Ashlea Harvey, Young Inspector Co-ordinator
Faatimah is our Young Inspector and the Yorkshire and Humberside Regional Representative
Adiba, Young Inspector
Amariya, Young Inspector
Haleemah, Young Inspector
Ibrahim, Young Inspector
Rohaib, Young Inspector
Cameron, Young Inspector
Aidan, Young Inspector
Yousef, Young Inspector
Hafsah, Young Inspector
Services have listened to the Young Inspectors to make a difference.
Our Young Inspectors make a significant contribution towards improving the quality of the services we deliver and provide to children, young people, and families in Rotherham. They are an integral part of our improvement journey and continue to shine a light on what's working well and what we need to improve. They are fantastic to work with and never fail to impress and amaze me with their professionalism and enthusiasm to make a positive difference

David McWilliams - Assistant Director; Early Help and Family Engagement