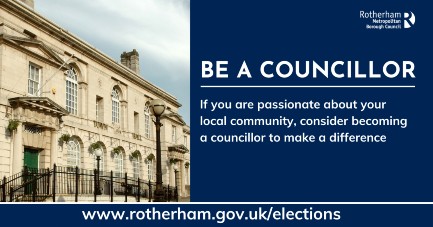 Could you be a councillor?
If you are passionate about your local community, consider becoming a councillor to make a difference.
Rotherham Council is encouraging residents to consider becoming a councillor.
We need people from all backgrounds and experiences who can reflect the neighbourhoods they would serve.
Councillors represent the 25 wards that make up Rotherham. Full elections are held in all wards every four years. The next set of elections will take place on 2 May 2024.
Councillors act as community leaders in their wards and neighbourhoods.
Being a councillor is something that requires dedication and commitment, but the role can be done flexibly around employment, studying, caring, and other voluntary commitments.
If you would like to find out more about this, please email electoral.services@rotherham.gov.uk.
We will be holding an information event later in the year for residents interested in becoming a parish councillor.
Find out more about becoming a councillor.
We spoke to a number of councillors who share more about their experiences.
Councillor Sarah Allen
Councillor Simon Ball
Councillor Victoria Cusworth
Councillor Michael Bennett-Sylvester
Councillor Adam Carter
Councillor Taiba Yasseen