The Mayor of Rotherham
The Mayor of Rotherham for 2019/2020 is Cllr Jenny Andrews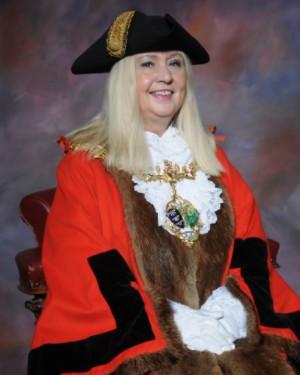 "We're all on a path of life with people who encourage and help you along the way." That's the philosophy new Mayor Jenny Andrews who, along with Mayoress Jeanette Mallinder, is bringing to her year office.
"I'm a people person and believe in community, so it's an honour to achieve the role of Rotherham's first citizen. As community leaders, we're in a privileged position to be able to support communities with the challenges they face and lead them to the right place."
Jenny's community focus as Mayor builds on a lifetime of helping others, beginning with seeing her father represent Maltby as a councillor, to tackling issues on behalf of fellow students as part of the student union at university; and going on to becoming a Maltby Parish Councillor, and then a Rotherham Borough Councillor serving the Hellaby ward. Her education also led her on a journey to caring, studying to become a mental health nurse.
"I started out working in various office and factory jobs whilst caring for my parents, and during my journey I was inspired by a really supportive social worker to go back to college to get my English GCSE. I stayed on to do my A Levels, which eventually led me to studying for a degree and a masters in Mental Health Nursing.
"All this began when I was 40 with me fully qualifying at 48. Education has changed my life and given me aspirations. Never did I dream I would one day become Mayor of Rotherham, so I am looking forward to spending my time as Rotherham's first citizen going out and meeting people from all over the town to see how they go the extra mile to support our communities.
Jenny will be supported by fellow Councillor, Jeanette Mallinder, who represents the Dinnington ward and has been instrumental in helping set up support groups for Rotherham's carers over the past 20 years, including a stroke club, carers group and Carer's Corner.
Self-proclaimed 'community girls', Jenny and Jeanette aim to be out and about around the borough as much as possible: "As Mayor and Mayoress, we're representing Rotherham. The Town Hall belongs to the people, so we really want to get involved and support as many people as we can, for example, we're really keen to demonstrate how people can help others through volunteering, so we're planning on a day or two of volunteering at the Rotherham Hospice charity shop.
"It's wonderful to make such a difference to people, especially starting so late in life and as a woman. I hope my story inspires others by showing it's never too late to achieve what you want to do. Studying and becoming a councillor have both been outside of my comfort zone - I was terrified of public speaking. But the more you take on these challenges and succeed, the more confidence you get, and the more you want to tackle issues."
The pair have spent the last year as Deputy Mayor and Mayoress and have already seen a wide range of experiences and met a variety of groups, as Jenny explains: " "As a mental health nurse, it was wonderful to visit the mental health recovery games and meet the people taking part. It's also fantastic to have seen Rotherham get its own university with the UCR, and we've really enjoyed visiting schools and exhibitions, and seeing the brilliant work and performances the children have produced.
"We're thrilled and proud to be Mayor and Mayoress. We're long-time friends and colleagues, so it's a fantastic opportunity to do something together. The path of life has really built up to this moment."
They have chosen three charities to support through the Mayor's Charity during their term: Rotherham Hospice, Shiloh Rotherham and Rotherham United Community Support Trust. Four other charities will also benefit from fundraising during the year: Rotherham Samaritans, Rotherham Parent Carer Forum, Thornberry Animal Sanctuary and New Life Church.
Shiloh Rotherham
Shiloh offers support to adults who are homeless or at risk of homelessness. Their dedicated team of staff and volunteers work with partners to provide a non-residential day service three days a week.
From their Support Centre in Masbrough, they offer housing advice, education and training, creative activities and support for health and addictions.
They also offer practical support including a healthy breakfast and lunch, laundry services, hairdressing, clothing and bedding. Shiloh aims to support all of their guests to live a fulfilling and independent life.
Find out more
Rotherham United Community Sports Trust
Rotherham United Community Sports Trust (RUCST) works alongside Rotherham United Football Club to bring a better standard of living to various groups across the borough.
RUCST is a community development programme that works across the town with different communities and age groups, delivering under the four main themes of the English Football League Trust: Education, Health and Wellbeing, Inclusion and Sport Participation.
Through the power of football they deliver a wide range of high quality programmes that support both local and national priorities.
Find out more
Rotherham Hospice
Rotherham Hospice enhances the quality of life of patients and those important to them through specialist palliative care services and education.
The Hospice is committed to achieving this by providing services for patients during the changing phases of their illness. They offer various care services through its inpatient unit, day unit, Hospice at Home, bereavement support for adults and Sunbeams bereavement support for children.
Support for family, friends and carers is also an important part of the care available.
Find out more
Four other charities will also benefit from fundraising during the year: Rotherham Samaritans, Rotherham Parent Carer Forum, Thornberry Animal Sanctuary and New Life Church
Get in touch with the Mayor
Invite the Mayor to your event!
The Mayor welcomes invitations to attend events held by local organisations throughout the district.
Invite the Mayor to your event
Deputy Mayor of Rotherham
The Mayor will be supported in her role by incoming Deputy Mayor, Cllr Ian Jones.