Commissioners recommend the return of further powers to Rotherham Council
Published Friday, 18th November 2016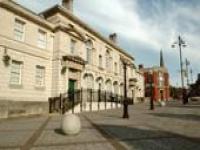 Further decision-making powers might be returned to Rotherham councillors under new recommendations to Government – a move which would bring the majority of services back under the Council's control.
Adult social care, economic growth, town centre management, waste collection, community safety, grounds maintenance and audit are among the functions which Commissioners are satisfied can now be returned to Rotherham Council.
The Government-appointed Commissioners – who have been given until March 2019 to improve and hand back all services – are confident that these functions are predominantly good quality, well-run and have strong leadership in place. They have now submitted their proposals to Sajid Javid MP, Secretary of State for Communities and Local Government.
Children's safeguarding and social care services will continue to be overseen by Commissioners while improvements continue.
It follows the return of around a third of functions to the Council in February, and Commissioners have since recommended the return of powers and duties to the Licensing Committee.
Sir Derek Myers, Lead Commissioner at Rotherham Council, said: "I and my fellow Commissioners are confident that significant improvements have been made in many more of the Council's core services.
"We are now recommending to Government that Rotherham councillors are in a strong position to take responsibility and accountability for these services, and that the organisation is fit to support them in doing so for local people.
"There are a number of other areas – including children's services – where we will continue to work with councillors and officers to ensure ongoing progress. While much has been achieved and robust improvements have been made, there is still more to do to make sure the remaining services are fit for purpose."
Local people are being asked for their views, and can put forward comments by the end of December.
Council Leader Chris Read added: "We continue to work closely with our team of Commissioners in order to ensure that the Council improves and better serves Rotherham residents. I'm pleased that we have now reached a point where Commissioners are satisfied that the overwhelming majority of Council decisions can be made directly by democratically elected councillors and look forward to the Secretary of State's decision.
"We have achieved significant improvements across the board, but we are clear there remains more to do be done, and we are determined to complete the work that we have started."
The Commissioners' proposals include those services that:
They are satisfied are operating well, with no significant value for money deficits
Are well led by officers, have clear definitions of service quality and plans for further improvements are in place
Have been quality assured by an independent party, such as a Local Government Association Peer Review or experienced interim Chief Officers appointed from outside the authority
Anyone who wishes to comment on the arrangements to hand back some powers should email the Commissioner team or call call 01709 255100 for more information.
Comments should be received by 31 December 2016.
Email the Commissioner team