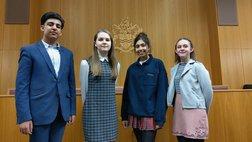 Josie Brown (16) and Iqra Chowdhary (16) are Rotherham's two new Members of the UK Youth Parliament.
Josie and Iqra were elected after more than 5,000 young people from across the borough cast votes in a bi-annual poll to select the people they want to speak up for them at a local and national level.
A total of twelve candidates stood for election, with the candidates finishing third and fourth – Amaan Ali Saqlain (14) and Molly Kane (14) respectively – taking up positions as deputies.
No names appeared on the ballot paper, as voters were asked to choose their preferred candidates from a series of pledges, encouraging people to vote for the person they think can best represent their views, rather than just because it's someone they know.

Josie's pledges related to action on Climate Change, free access to College and University and better education about issues like buying a house and how taxes work to better prepare young people for adulthood.

While Iqra promised to campaign to combat knife crime, to remove the stigma that remains around mental health and for a school curriculum that better prepares young people for the real world.
Josie, Iqra, Amaan and Molly will work alongside Rotherham's Youth Cabinet in ensuring the voices of young people influence decisions made within the borough. Josie and Iqra will also take part in annual UK Youth Parliament debates, held on the famous green benches of the House of Commons.

Cllr Gordon Watson, Deputy Leader of Rotherham Council, said: "I'd like to offer my sincere congratulations to Josie, Iqra, Amaan, Molly and all the candidates who took part in this year's Youth Parliament elections.

"Standing for election can be daunting for anyone and I'm delighted that as many as twelve candidates put themselves forward, not to mention the 5,000 young people who cast their votes.

"The UK Youth Parliament members are very proactive in making sure the voices of Rotherham's young people are heard at a national level, whilst working alongside and holding local bodies such as the Council, MPs and transport providers to account."
The election results were declared by Returning Officer, David McWilliams, the Council's Assistant Director for Early Help and Family Engagement last week. The declaration was attended by John Healey, MP for Wentworth and Dearne, who stayed on afterwards to talk to all the candidates about the main issues facing young people in Rotherham and about life in politics.
John Healey said: "This is a chance for young people to change things. They're going to be campaigning on a number of important issues, particularly improving our local environment. I'm really keen to work alongside them and if they want support from me, as a local MP, I will provide it."
The elections were organised by the Participation, Voice and Influence Team within Rotherham Council's Early Help for Children and Families (part of Children and Young Peoples Services), in conjunction with the Council's Electoral Services department.
As well as speaking for young people on local issues, the Members of Youth Parliament will also be involved in national campaigns selected through the "Make Your Mark" strategy, which this year are protecting the environment, tackling hate crime, ending knife crime, mental health and a curriculum for life.