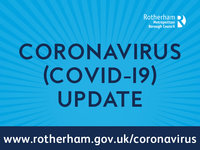 Rotherham residents who might be hit hardest financially by the coronavirus pandemic will receive a £200 Council Tax discount after Rotherham Council announced the implementation of its hardship fund.
The discount will be made to more than 13,000 working age households who currently claim Council Tax Support in Rotherham, as well as households now eligible for the scheme because their income has been severely hit as a result of the coronavirus.
Rotherham Council, which is responsible for administering the national Hardship Fund scheme in the borough, has opted to set the discount at £200 per household – which is higher than the £150 proposed by Government.

The cost of the scheme is being met by a one-off central government grant.

Councillor Saghir Alam, Cabinet Member for Corporate Services and Finance at Rotherham Council said: "The coronavirus crisis has affected the way all of us lead our lives - our health and wellbeing, our interaction with family and friends, our jobs and our finances.

"On top of concerns about the health of loved ones, people are facing the added burden of worries about finances. After reviewing the available funding, we are able to go further than the national guidelines suggest. Some claimants will have their Council tax bill for the coming year cancelled altogether. Hopefully this helps to take concerns about council tax bills away from some of those residents who are already facing the biggest financial worries."

The Hardship Fund is now live and means:
All current Working Age recipients of Local Council Tax Support will receive additional Council Tax Support of £200, to be deducted from their 2020/21 Council Tax bill
Any new recipients with eligible claims for Council Tax Support, up to and including 31st May 2020, will receive additional Council Tax Support of £200 to be deducted from their 2020/21 Council Tax bill
Where a household's 2020/21 Council Tax bill is less than £200, the bill will be reduced to zero.
Where a 2020/21 Council Tax bill has been paid or partially paid and the application of the additional support generates a credit, a refund will be issued.
New bills will be issued to reflect the additional Council Tax support.
Details are available now at
www.rotherham.gov.uk/hardshipfund
The scheme will be reviewed at the end of May to determine if any changes are required, based on the position at that time. This will include a decision on whether to extend the end date for eligibility.
The discount will be applied automatically for people who already receive Working Age Local Council Tax Support, so they do not need to contact the Council.
Anyone who is experiencing financial hardship as a result of the current crisis which is making it difficult for them to pay their Council Tax bill, or who has recently become unemployed, should visit the Council's website to find out if they are eligible for support.
New Council Tax Support claimants, which could include people who've lost a significant part of their household's income, should fill out the Council Tax Support form on
the Council's website
:
The page includes an eligibility checker, which enables potential claimants to submit details of their finances to check if they are entitled to the hardship fund support. The eligibility criteria is set nationally by the Government.
The Government's national £500m Hardship Fund has been created to support to "economically vulnerable peoples and households". The Government has now provided the Council with the guidance necessary for the Council to begin to administer a scheme.