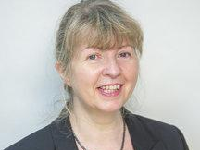 This is now our fourth week of undertaking measures to minimise the spread of coronavirus (COVID-19).
As you will have seen from the news, nobody is exempt from getting the virus. We are all hearing the stories from people who have recovered from COVID-19 and their message is very clear about the need for you to stay at home to protect yourself and others.
I know we are all anxious to know when life will return to some normality but at this time it remains vitally important that we limit the spread of infection. We are starting to see the numbers of new infections levelling off and all our efforts will be helping this.
As a Director of Public Health, I wanted to answer some of the questions which people have been asking me.
Why are we not seeing instant results from the lockdown?
This is about the "incubation period". The incubation period is the time between a person catching the virus and beginning to display symptoms of the disease.
Most estimates of the incubation period for COVID-19 range from 1-14 days, commonly around five days. The majority of people will only have mild symptoms but for some they will worsen and then will need hospital care. For some of these people their condition will deteriorate further and they will need more intensive care treatment.
As a result of the measures being taken which encourage us all to minimise contact with other people, the number of infection cases will reduce. Consequently, because of these actions, given time, we will start to see a drop in the number of people who are dying.
How long will we need to socially distance for?
The government introduced social distancing and other stringent measures on Monday 23 March as a way to reduce social interaction between people in order to slow the transmission of the virus. Unfortunately it is not yet known how long these measures will need to be in place as deaths are still rising, and we haven't yet reached the peak of the virus, but the Government is reviewing this regularly. So, at the moment, it's still too early to lift the measures that have been put in place.
It continues to be critically important that the distancing measures are followed by everyone for as long as is needed in order to slow the spread of the virus and reduce demand on the NHS.
Although it is tempting to go out and enjoy the lovely weather we are experiencing with family and friends, now is not the time to do this. Whilst the majority of people are following the guidance, some are not, and the Government have issued strong warnings that if people continue to ignore advice, they would be forced to ban outdoor daily exercise altogether. This could also mean that the measures would need to be in place much longer.
The latest message from Public Health England reminds everyone to stay home and "Act like you've got it. Anyone can get it. Anyone can spread it".
How will the government build up a better picture of the number of people who have been infected?
Building a picture of how many people have had the virus is complicated. Until a safe antibody test has been developed and introduced, the Government are unable to accurately assess who has been infected.
However, there is something we can all do to help get a better understanding of how many people might have had COVID 19. The Health and Social Care Secretary, Matt Hancock, has launched a new Coronavirus Status Checker Checker. This will help the NHS coordinate its COVID-19 response and build up important additional data on the outbreak.
People with potential coronavirus symptoms are being asked to complete the status checker and answer a short series of questions which will tell the NHS about their experience.
It is open to anyone in the UK to use on the NHS website and in its initial phase the NHS is particularly keen for anyone who thinks they may be displaying potential coronavirus symptoms, no matter how mild, to complete it.
Anyone using this Status Checker is clearly told at the beginning and the end of the survey that it is not a triage or clinical advice tool, and that they should visit 111 online for medical advice about their symptoms.
The information gathered will help the NHS to plan its response to the outbreak, indicating when and where more resources like oxygen, ventilators and additional staff might be needed and will provide valuable insight into the development and progression of the virus across the country.
Finally
I know people living and working in Rotherham have made huge sacrifices to protect friends, family and our community and I am not underestimating how challenging the current circumstances are for everyone. However, I cannot stress enough that despite how difficult this is we must continue with the Government's "stay at home, protect the NHS and save lives" message.
Thank you and stay safe.