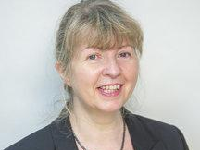 I want to start my briefing this week with a huge thank you to all of you who are continuing to stay at home to keep the NHS safe and save lives.
You are a crucial part of the national effort to reduce the spread of the virus.
We are starting to see the rate of transmission in the community reducing and the last thing we want to do is sacrifice all the good work we have done so far. A lot of people have been asking when the restrictions will come to an end but if we relax and reduce these measures too soon, we will put more people's health at risk.
That is why the Government has announced a further three weeks of lockdown. Together we can beat Coronavirus but we need everyone to continue to work together to curb the spread of the virus.
Bereavement Support
More of us now are being directly affected or know of someone who have lost loved ones to COVID-19. The death of anyone is painful at any time and the restrictions during this pandemic have meant that some families have not been able to be with their relatives in their final hours. We are also seeing funeral and cremations services across the country having restrictions placed upon them to keep people safe.
In Rotherham we want to ensure that everyone who is bereaved has access to support and so this week we have launched a listening service along with other local authorities across South Yorkshire and Bassetlaw.
This service provides listening, practical and emotional support over the telephone to anyone who is bereaved by any means. You can ring the freephone number 0800 048 5224 or visit the website www.listening-ear.co.uk/refer. You do not need to be referred by a worker, you can self-refer.
National Domestic Abuse Helpline
Lockdown measures have meant huge sacrifices for many people and for others life has been made very difficult.
I want to specifically mention those people living with domestic abuse. In one week the National Domestic Abuse Helpline reported a 120 per cent rise in the number of calls it received in one 24-hour period. I want to reassure residents that the Council and Rotherham Police take reports of domestic abuse seriously.
Rotherham RISE provides Domestic Abuse support on behalf of Rotherham Council and has created a new web chat facility for those that find it safer to communicate online. The facility is available between 9am and 12 noon, Monday to Friday via their website.
Please remember if you are in danger call 999, but if you cannot speak let the operator know by placing a silent call. To silent call, dial 999 once you are connected with an operator press 55 to let them know your emergency is genuine but cannot speak.
Rotherham Rise also provides a confidential advice line on 0330 202 0571, which is open Monday to Friday from 9am to 5pm.
For support outside of these hours you should contact the National Domestic Violence Helpline 0808 200 0247 (freephone 24/7).
Emergency Services are available
Over the last few days we have heard the Chief Medical Officer, Chris Whitty, remind us all that the NHS is 'open for business' for essential and urgent care.
If anyone in your household has a medical emergency, not related to COVID-19, they should still go to hospital for treatment. This includes people suffering from:
loss of consciousness
acute confused state and fits that are not stopping
chest pain
breathing difficulties
severe bleeding that cannot be stopped
severe allergic reactions
severe burns or scalds only works on a mobile
stroke
major trauma such as a road traffic accident
If parents or carers are worried about a child, especially if they have an existing condition, please do take your child to A&E.
Hospitals have worked hard to ensure that they still have the capacity to manage emergencies whilst keeping people safe, so please if you need emergency treatment do not delay accessing this help.
For any additional medical advice, 111 is still available.
Finally
I want to reassure you that there is a lot of work going on within the scientific and medical communities to help the country return to as normal a life as possible.
Thank you for all you are doing to protect friends, family and our community. Stay safe.