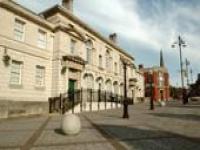 Hearing loss affects thousands of people across Rotherham and during Deaf Awareness Week, Rotherham Council is promoting sign language across its social media channels between Monday 4 – Friday 8 May.
One out of six people in the UK are affected by hearing loss with over 2 million people wear hearing aids. 800,000 people are severely or profoundly deaf and rely on other means of communication, such as sign language, to talk to those around them.
Rotherham's Children's Hearing Impairment team works with deaf children and young people and children and young people aged up to 25 with a hearing impairment. The team works closely with NHS Rotherham Foundation Trust's audiology department so they can support babies, children and their families from their diagnosis of hearing loss and monitoring their child's communication and language.
Currently, the Hearing Impairment team works with over 400 children and young people in Rotherham, providing advice, specialist teaching and training as well as British Sign Language classes to families, schools and other family settings.
They can also refer families to Rotherham Deaf Connections, a vibrant family group who meet on the first Saturday of the month, can also offer support through fun activities.
Throughout Deaf Awareness Week, Rotherham Council's social media accounts will be used to give beginners basic lessons on how to sign the alphabet, introduce themselves and learn a song.
Residents are encouraged to share their new skills on Facebook and Twitter by using the hashtag #deafawarenessweek2020.
Rotherham Council's Joint Assistant Director Commissioning, Performance and Inclusion, Jenny Lingrell, said: "Thousands of people are affected by hearing loss but very few people know how to communicate with them, even though many want to learn sign language. During Deaf Awareness Week, we are wanting to raise awareness of services to help those who have hearing loss and use this opportunity to reach out to parents in Rotherham whose child may need support."
Rotherham Local SEND Offer has a range of resources, advice and a specialist hearing impairment team to support children with a hearing loss or are deaf.
Further information about these resources can be found on the Rotherham Local SEND Offer website at www.rotherhamsendlocaloffer.org.uk.