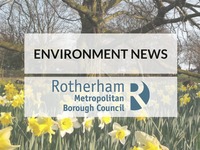 Residents will be able to put out their brown bin on their usual collection day from Monday 11 May.
Staff across Rotherham Council have been working to resume the garden waste service as quickly as possible, with some members of staff being redeployed from other services to support our waste teams.
With many restrictions continuing to be in place during the lockdown, and with reduced staffing, we are asking residents to hold on to any additional waste that does not fit into the brown bin, until their next collection. This will help to ensure the Council can continue with garden waste collections during this difficult period.
Further information will follow about how residents will be compensated for the six-week break in service to ensure that residents get the amount of collections they have paid for.
To also support residents, in a further development, households can now recycle Tetra-paks at the kerbside in their back bin along with glass, cans, and plastic bottles, tubs and trays.
These waterproof paper cartons often contain multi-layered materials such as paper, plastic, foil and wax. Examples include long-life milk and juice, soups, pasta sauce, tomato and picnic/children's drinks cartons.
Rotherham Council's Cabinet Member for Waste, Roads and Community Safety Cllr Emma Hoddinott said: "Over the past few weeks, the Council has been working hard to get the garden waste service back on track.
"I'm extremely grateful to the staff who are able to support the waste services so that we can resume the garden waste collections. These are unprecedented times and I'd also like to thank residents for their patience and understanding.
"I'm also pleased that the Council can now collect Tetra-Paks in black bins, which will help residents in recycling more."
See further information about the kerbside waste collections