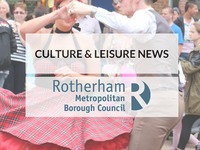 Local communities will shortly be able to access more of their history after Rotherham Council secures funding from Historic England to boost engagement with its major historical landmarks.
Three heritage sites across Rotherham will benefit from new programmes after Rotherham Council's Museums, Arts and Heritage team were successful in securing £38,174 from Historic England as part of its COVID-19 Emergency Funding in May 2020.
The funding will focus on Keppel's Column in Thorpe Hesley, Catcliffe Cone in Catcliffe, and Waterloo Kiln in Swinton and will allow a range of activities using arts and new technologies to make it easier for residents to engage with their local history.
Examples could include projections and light shows, small community gatherings as lockdown measures are eased, and new digital programmes exploring virtual and augmented reality to bring these important monuments back to the forefront of their communities.
The programme is due to start in June and run until December. It marks the first time in recent years that these heritage sites have had investment to bring them back into regular community use.
Rotherham Council's Cabinet Member for Cleaner, Greener Communities, Cllr Sarah Allen, said: "We are delighted to receive this funding from Historic England as it will enable us to build a programme of engagement focusing on some of Rotherham's much-loved heritage sites.
"I know that residents from across the borough from those living on the doorstep of our historic sites, to those in schools, youth centres, care homes and libraries will see the benefits of this project, which will also allow some of our communities who are currently the least represented in our collective heritage to be able to tell their history too."
The project will allow residents to explore deeper connections and create new stories of Rotherham's shared heritage, ensuring that historic sites belong to all sections of the community from traditional white working class families to the Pakistani migrants who built Rotherham's industry, as well the rich and colourful heritage of the borough's African, Yemeni and Roma communities.
As well as reconnecting communities with their heritage, the funding will also enable the Council to explore new sustainable management models for these sites, from Friends Groups to Heritage Wardens, ensuring that local residents play a key role in the future development, management and care of these historic pillars of community life.
Assistant Director of Culture, Tourism and Sports, Polly Hamilton added: "Over the last few years we've seen a decreasing pool of volunteers which has seen a disconnection with three of the borough's most important, yet often overlooked, sites which are located at the heart of communities. By using this funding, we are looking to bring the past back to life and allow the surge of interest in local history which has arisen during lockdown to continue to flourish."
Historic England invited heritage sites to apply for grants of up to £50,000 for projects that might enable them to reduce risk to heritage through research. Grants of up to £25,000 to address specific organisation cashflow difficulties arising from Covid-19. The fund will be up to £2million.