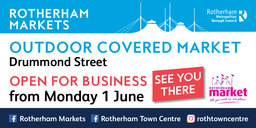 Rotherham's outdoor covered market is back in business from Monday 1st June following an easing of the Government's Covid-19 restrictions.
Traders are looking forward to welcoming back regular and new customers to the market for the first time since the lockdown came into place in late March.
The market will be open as follows:
Monday – General Retail, starts 8.30am
Tuesday – Second-hand, starts 8.30am
Wednesday – Second-hand, starts 8.30am
Friday – General Retail, starts 8.30am
Saturday – General Retail, starts 8.30am
The Council is putting in place a range of additional safety measures to protect customers, traders and markets staff, including a single entrance point to the market on Drummond Street, additional staffing, a hand sanitiser station for use on entry, a maximum limit of 50 customers at any one-time with a 'one in, one out' system and social distance floor markings.
All market traders will be required to complete a risk assessment for safe operation of their business before being allowed to stand.
Councillor Denise Lelliott, Cabinet Member for Jobs and the Local Economy said: "We are delighted to be re-opening the outdoor covered market from Monday 1st June. This another step in the phased re-opening and recovery of our town centre.
"Our markets team has worked extremely hard to put measures in place to protect the public, traders and our staff and their safety remains our number one priority."
Unfortunately, further work is required on risk assessments for the Tuesday Street Market, Crafters Market and Bazaar Market, so it will not be possible for them to open from week commencing 1st June.
However, the Council is working hard with partners with a view to re-opening them in a safe way at the earliest opportunity.
Meanwhile the Indoor Market, based at the Centenary Market Hall will remain open on Fridays and Saturdays for essential foods only from 8.30am – 2pm, as it has done throughout the restrictions.