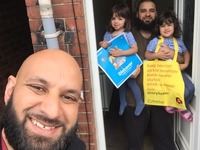 Rotherham children are having the boredom of lockdown eased thanks to books being distributed by Rotherham Council's Early Help and Library Services.
The Council's teams have joined forces with the BookTrust's Bookstart campaign to distribute books to more children.
Bookstart packs have been delivered to families with free books for children at pre-school age 0-4. During the coronavirus pandemic the Council has had to explore new ways of helping families access the books on offer. As a result, around 75 packs a week are now being sent out to families throughout borough.

Cllr Sarah Allen, who is Rotherham Council's Cabinet Member for Cleaner, Greener Communities, said: "Many of us are facing more time at home at the moment and while electronic devices are playing a vital part in helping to educate young people, the traditional book still has its place in helping to keep children entertained during these tough times.

"The Bookstart programme is a great scheme that helps youngsters develop a love of reading from an early age."

Children who are likely to benefit from the scheme are identified through the Council's Early Help team, which works with children, young people and families across the borough who might need extra support.

The packs are free for vulnerable children and those with additional needs and contain tips and guidance on reading together, resources and activities.

Councillor Gordon Watson, Deputy Leader and Cabinet Member for Children and Young People's Services at Rotherham Council, said: "The packs are free and suitable for children between 0 to 4, many of them have been delivered by Council staff and volunteers at the same time as food parcels.

"Families across the borough are having to cope with educating children in different and often challenging circumstances at the moment and this is a great way to help engage youngsters and develop their literacy skills."
Every child in England and Wales is entitled to a free Bookstart pack before they are 12 months old and again aged 3-4 years.
You can find out more about the Bookstart scheme via the BookTrust's website at www.booktrust.org.uk/ or by contacting Rotherham Library Service via email on libraries@rotherham.gov.uk