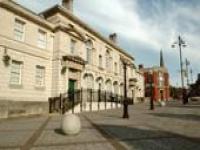 Rotherham Council is to extend the support services it provides for victims and survivors of child sexual exploitation (CSE) by at least another three years.
Since July 2016 more than 1,400 people who have previously experienced CSE and sexual abuse have accessed counselling and other support services commissioned by the Council, but the current contracts will come to an end in December 2020.
64% of those who have used the services say that their health improved a little or a lot, and 67% felt that their ability to make decisions and take control of their lives had improved a little or a lot. A smaller proportion, but more than half, also reported that their self esteem and confidence had improved, and that they felt more safe.

Following a meeting on Monday 15 June, the Council's Cabinet has given the go ahead for services to be recommissioned via open tender and to award a contract for continuation of the services until April 2023, with an option to extend until April 2025.
Download the Cabinet report here.

The recommissioning of the services also allows for them to be refined to reflect the findings of a full needs analysis, feedback from people who have used the services over the last few years, and an open call for comments from CSE survivors.

The new services will sit alongside the local NHS Trauma and Resilience Service which works with survivors who are pursuing prosecutions through the NCA's Operation Stovewood, which has also led to a better understanding of how to meet the need of victims and survivors, and will help to ensure that all survivors receive joined up support whether they are involved in Stovewood or not.

The new Council-commissioned services will provide a trauma-informed response, in line with national best practice, with the new services providing more "evidence based" interventions such as counselling in line with what survivors have told the Council that they need, and a commitment to ensure that any waiting times are kept to a minimum.
Councillor Chris Read, Leader of Rotherham Council, said: "For many Rotherham victims and survivors, these services have really shown their worth, and it is vitally important that we continue to make sure that such services are available in the borough. As I have said throughout, we are committed to this for the long term. We cannot change the things that went wrong in the past, but we do maintain our commitment to improve people's lives now. By learning from the experiences of those who have needed support over the last few years, as well as the professionals who work in the field, and considering good practice from elsewhere in the country, we are now able to move to commission services for the next three years."
During the recommissioning work, current support services will continue. Anyone wanting to access CSE support can contact one of the three Rotherham Council commissioned providers:
GROW - 01709 511 171
Rotherham Rise - 0330 2020 571
Rothacs - 01709 835 482