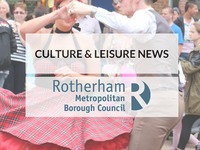 Clifton Park Museum is calling on young people and budding junior photographers to enter its photography competition this summer.
The competition is open for young people aged 13 – 25 who live in the communities close to the museum.
Prizes include £50 shopping vouchers and three annual Society of Photography memberships are also up for grabs. The competition is free to enter, and photographs can be taken on either a camera, mobile phone or tablet.
As part of the Place Makers Future Shapers National Heritage Lottery Funded Project, the competition aims to capture what young people like most about their local area or community and their experiences throughout lockdown.
There are five categories to enter:
One image that captures your experience of lockdown 2020
Your favourite heritage building, monument or site in your local area
All about Me; an image that captures the Story of You (e.g. qualities, beliefs and your individuality)
A special local place (somewhere you have visited during lockdown)
Something that represents your connection to your community or local area
Entering the competition couldn't be easier, simply email heritage.youth@rotherham.gov.uk for an entry form. The deadline for entries is Tuesday 14 August at 5pm.
A panel of judges including professional photographers and creatives will help select the winners. Winners will be invited to a prize ceremony and a selection of winning photographs will be included as part of a future exhibition at Clifton Park Museum.
Rotherham Council's Cabinet Member for Cleaner, Greener Communities, Cllr Sarah Allen, said: "There are so many talented young people across Rotherham and the Council would love to showcase some of our budding photographers work in this special competition and we are hoping to extend the project to other areas in Rotherham in due course. With so many of us having to stay at home during the coronavirus outbreak, it has given us an opportunity to try our hand at something new and this competition will allow young people to demonstrate their new skills and their experiences in these unprecedented times."
This competition is supported by Rotherham Ward Councillors for Boston Castle, Rotherham East and Valley Wards through the Rotherham Council Councillors Community Leadership Fund, the Society of Photographers and the National Heritage Lottery Fund.