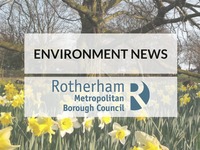 Rotherham Council has unveiled the first phase of its response to Ash Dieback (ADB) disease which is attacking the UK's Ash tree population.
ADB is a progressive disease which attacks and destabilises the structure of trees.
Once an Ash tree is infected it will begin to die, and in a very short time it will not be able to support its own weight and will become dangerous.
The Council's tree service has been looking for signs of the disease in Rotherham and in recent weeks around 82 trees across the Borough have been found where the disease has progressed to the stage where they now need to be removed. This includes 15 trees in Clifton Park.
The trees in Clifton Park are being treated as a priority as they are growing around play areas and where members of the public are known to gather.
Rotherham Council's Cabinet Member for Cleaner, Greener Communities, Cllr Sarah Allen, said: "Ash dieback disease is a nationwide threat to the survival of our native ash trees. Over the last few years, many councils across the UK have become aware that their ash trees have been infected by this horrible disease and have taken actions to remove the dangers.
"Plans to fell trees which have become infected is not a decision the Council has taken lightly. We are expecting that many of our ash trees will be affected by the disease which is a very sad and worrying statistic. I know that many residents will be upset to see many beloved trees cut down but the safety of members of the public is our number one priority."
The Council will be looking to replace any trees that are removed as it looks to continue tackling climate change in the community.
Ash dieback disease spread from the continent to the South of England and is making its way north. Fungus spores can blow tens of miles away, where it lands on leaves, stick to them and then penetrates the leaf and beyond. The fungus then grows inside the tree, eventually blocking its water transport system, causing it to die.
It is estimated that ADB will lead to the death of between 75-90 per cent of the country's ash tree population.
In the coming years, all wards in Rotherham will be affected by ADB and it will result in large amounts of ash tree removals.
Residents can help by identifying ash trees in poor health by getting in touch with the Trees and Woodland team at Rotherham Council via emailing [email protected] We will also be looking at other ways residents can help identify trees in the near future, so watch this space.
Email the Trees and Woodland team
Further information about ADB can be found on the Woodland Trust website.
General guidance about ADB can be found on the Forest Research website.