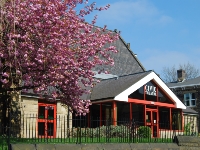 Rotherham Council has made the difficult decision to postpone the re-opening of Rotherham Civic Theatre until Spring 2021, but is reassuring staff and visitors that the theatre's doors will reopen again once the Coronavirus pandemic is over.
The current government guidance places strict social distancing rules on theatres and performing arts venues for future stages of recovery. Social distancing for venues like the theatre is therefore expected to continue for some time, potentially even into the New Year.
This effectively means the auditorium can only accommodate 10% of its usual capacity, so reopening at this time would not be viable and would not offer the quality of experience usually experienced by audiences. Any short term changes in the rules would affect what performances could or could not take place, making it impossible to guarantee a programme of events.
Rotherham Council's Head of Creative Programming and Engagement Leanne Buchan said: "We remain committed to offering a quality theatre experience, but our priority for now continues to be the safety of the staff, audiences and guest performers, as the theatre team continue to explore other ways of providing the moments of community, joy and hope that we know theatre brings."
Although this means the much-loved pantomime Aladdin will be postponed, the theatre team are working with panto producers Imagine Theatre to take the popular Christmas tradition out into communities in different ways, featuring an exciting magic box of tricks and wizardry along with a few surprise guest appearances up our puffed sleeves.
While it may not be the theatre audiences know and love, Rotherham Council will continue to work hard to ensure as many residents as possible in Rotherham have access to theatre. The theatre team will also be working on developing new programmes for the time when people are able to be together again.
Customers who have purchased tickets for shows will be contacted by the theatre over the coming weeks, so we ask that customers be patient during this time and not contact the Box Office if possible.
Anyone wishing to donate to the theatre to help us continue to support local and national performers and organisations at this difficult time, can do so via the Theatre website: