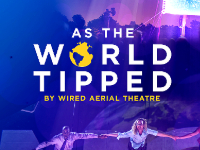 A spectacular large-scale aerial theatre production which confronts climate change will take centre-stage at Rotherham's Wentworth Woodhouse next month.
The performance is part of WE Wonder Noir, a new night-time festival at the historic Wentworth Woodhouse. Organised as part of the WE Great Place partnership, it will take place for two nights only, on 9 and 10 November.
As The World Tipped will tell the story of a climate crisis through dramatic film, visuals and aerial performance, which will see performers suspended on a tilting stage 18 metres off the ground.
The performance by UK-based Wired Aerial Theatre is set at the Secretariat of the Copenhagen Climate Change Conference, where staff fail to notice as the world around them slides towards disaster.
Tickets are available now – those attending can look forward to street food and variety acts from 6pm before the main aerial show at 8pm.
WE Great Place is a partnership between Wentworth Woodhouse Preservation Trust, Rotherham Council and Barnsley Council, funded by the National Lottery Heritage Fund and Arts Council England.
Sarah Mcleod, Chief Executive of Wentworth Woodhouse Preservation Trust, said: "This is a fantastic opportunity to see an extraordinary piece of aerial theatre here in South Yorkshire. As The World Tipped tells a powerful tale of an ecological crisis at a time when people are taking a stand on climate change and demanding action. It shows that culture can be used to celebrate the world we live in and highlight important issues."
Polly Hamilton, from Rotherham Council, said: "Cultural events are of high importance to Rotherham Council and with our partners through WE Great Place, we are putting South Yorkshire's world class heritage sites and cultural events on the map. The performance will be the main attraction in what we hope will become an annual autumn festival at Wentworth Woodhouse and Elsecar in Barnsley which celebrates the rich cultural history of the area, while bringing new and exciting experiences to our area."
Last month, Barnsley Council declared a climate emergency and announced plans to be zero carbon by 2040, with aspirations to achieve this by 2035.
Cllr Tim Cheetham, Cabinet Spokesperson for Place (Regeneration and Culture) at Barnsley Council, said: "We can be inspired by the scientific and technological spirit of Elsecar and Yorkshire during the Industrial Revolution, to help us tackle the urgent challenges the world faces now.
"As a council, our aim is to protect Barnsley for future generations, making sure that people are safe from harm. This is why we've declared a climate emergency. Improving our climate and reducing carbon emissions is a key part of this and we want to make sure our commitments to be zero carbon by 2040 are supported by robust action plans. As a council we are already engaging in various strands of activity such as installing electric vehicle charging points and tree planting to get to the point of carbon neutrality as quickly as we realistically can."
"This spectacular event at Wentworth Woodhouse is another demonstration of our commitment to raising awareness by providing people with a platform to encourage conversation around climate change."
WE Great Place is a partner in Without Walls, working with festivals and artists and bringing fantastic outdoor arts to people in towns and cities across the UK.
WE Wonder Noir builds on the success of joint events at Wentworth and Elsecar, including the Man Engine in 2018 and this summer's Elsecar Puddler's Fair and WE Wonder Festival at the historic Grade I listed country house, all of which drew crowds in their thousands.
Tickets for WE Wonder Noir cost £12.50 for adults and £5 for children. Children aged 3 and under go free. Family tickets cost £30 (2 adults and up to 3 children aged 4-16).
Visit the WE Great Place website
Book tickets for As The World Tipped
Follow @WEGreatPlace on Twitter