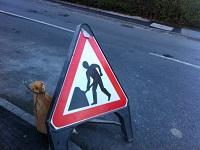 Rotherham Council has pledged £200,000 to repair and resurface two major routes into the town centre as part of the 2020 Roads programme.
Repair work is taking place on Centenary Way and Rotherham Road Roundabout with both roads closing at night to minimise the effect of resurfacing and repairs on drivers. Diversion signs are in place to help people using the roads to find alternative routes.
Full details of the works are:
Beale Way, Parkgate: 29 October for 1 week, 10pm until 6am
A633 Rotherham Road Parkgate Retail World Roundabout, Parkgate: 24 October for 1 week, 10pm until 6am
A630 Centenary Way (near Tesco), Rotherham Town Centre: 30 October for 1 week, 8pm until 5am
A630 Centenary Way (New York Stadium), Canklow: 14 October for 2 weeks, 8pm until 5am.
The 2020 Roads programme has included targeted work to resurface many of Rotherham's major and estate roads, as well as offering a wider package of road maintenance which will benefit both residents and visitors. Completed works in Aston and Harthill have been met with positive feedback.
Tom Smith, Rotherham Council's Assistant Director for Community Safety and Street Scene, said: "This work will result in real improvements to the roads in these areas. By arranging for these much needed road resurfacing works to take place at night, we hope to minimise disruption to local people as much as possible.
"We apologise for any disruption experienced by local residents and businesses, however this work is essential to improve roads in the area and we hope people will appreciate the benefits once all the work is completed.
"We aim to keep residents and businesses informed and if anyone has any questions, staff on site will be happy to talk through any concerns."