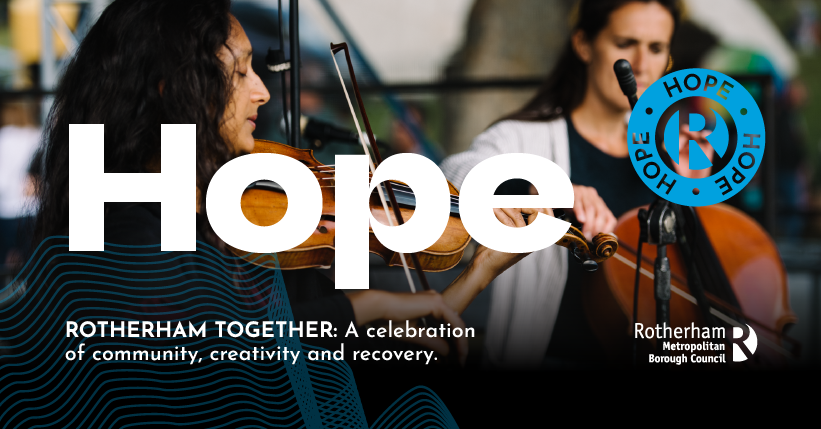 A new seven month programme has been launched across Rotherham aimed at bringing residents and communities together safely as people in the borough start to rebuild their confidence following months of uncertainty during the COVID-19 pandemic.
The Rotherham Together programme will provide everything from cultural events and installations such as talks, performances and screenings, some virtual, some in person, to a series of toolkits and guides to help us figure out our new normal together.
The focus will be on three areas; joy, gratitude and hope and has been developed with a broad range of partners from across the borough including: Grimm and Co, Rotherham Ethnic Minority Alliance, Rotherham NHS Trust, Rotherham United Community Sports Trust, Voluntary Action Rotherham and Wentworth Woodhouse.
Cllr Sarah Allen, Rotherham Council's Cabinet Member for Cleaner, Greener Communities. said: "People across the borough have been through testing times over the past few months and the Rotherham Together programme is a great way to bring people together in a safe way as we continue to battle coronavirus across the borough.
"COVID-19 has had a significant impact on this year's events programme with many events cancelled or postponed to future years, most notably Rotherham Show.
"It's been an unprecedented and extraordinary time with challenges for all of us and we hope that the programme of events planned can bring some much needed joy to people, as well as thanking those key workers that have been working so hard throughout the pandemic and helping us collectively look, with hope, to the future."
The programme kicks off this weekend (5th September 2020) on what would have been the start of the Rotherham Show, with:
The reopening of Clifton Park Museum following five months of closure
Demonstration of Thanks - a creative workshop led by local artists Vicky Hilton at Clifton Park Museum which will create a large scale installation at All Saints' Square
Wildflower Park - a giant 180m land art maze by Landmark Collective at Clifton Park