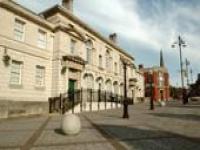 Rotherham Council will be working with Rotherham College to promote COVID safety with young people throughout September.
An Information Roadshow will be held at the College's campuses including the town centre, the university centre and Dearne Valley campus for students to get information and advice about following social distancing guidelines, wearing face coverings and getting tested at one of the local test sites.
Council staff from the Neighbourhoods and Children's and Young People's Service Early Help will be available to answers any questions students have about the coronavirus whilst raising awareness of the importance of following guidance to protect themselves and others. They will also be able to grab free giveaways of hand sanitiser and face coverings.
Rotherham Council's Leader, Cllr Chris Read, said: "Over the past few months the Council has engaged with thousands of people across the borough and, as a result, we have seen a fantastic result in the decrease of coronavirus cases in Rotherham. We want to continue this support by engaging with young people who may be apprehensive about returning to education and working with the college is vital to this."
Deputy CEO/Principal of the RNN Group, Tracey Mace-Akroyd, said: "It is an unusual start to the new term and I am sure students starting or returning to their studies in September will have questions about the coronavirus and how it will affect their learning. We are really pleased to be working with the Council so that we can help support students and give them – as well as their families – the reassurance they need during this time. All students are welcome to come along to these sessions."
Further information and guidance about coronavirus can be found here