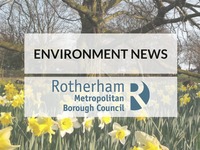 Signs are set to go up across the borough reminding people of the dangers of nitrous oxide, also known as laughing gas.
Inhaling nitrous oxide gas can be dangerous and can cause fainting, heart attack or nerve damage with the risks increased when mixed with alcohol or other drugs. It is also an offence to supply nitrous oxide for its psychoactive effect.
Prolonged use of the drug can cause a range of long-term health problems, such as anaemia and serious nerve damage, sometimes leading to numbness in the fingers and toes.
Alongside the dangers to users of the drug, there is also an issue with the litter caused by discarded canisters and the risk this poses to animals and the environment.
Signs have been produced by Rotherham Council, South Yorkshire Police and other partners warning of the dangers of using the canisters and the offences committed in supplying these for human consumption.
It is hoped that the signs will discourage people who may be considering using nitrous oxide and serve as a warning to anyone who intends to supply.
Rotherham Council's Cabinet Member for Waste, Roads and Community Safety Chair Cllr Emma Hoddinott said: "Residents have been raising concerns about lots of little silver capsules strewn across car parks and parks. These nitrous oxide gas capsules are not just causing a lot of litter but could be causing serious harm to those people who are inhaling the contents. We are hearing stories of young people in the UK becoming paralysed as a result of inhaling this gas."
Public Health Lead for Drug Misuse in Rotherham, Anne Charlesworth, said: "Nitrous Oxide – or Laughing Gas as it is more commonly known – can be a very dangerous drug especially when inhaled directly from the canister. What people do not realise is that the gas is under a very high pressure in these canisters and inhaling directly from them can cause the throat muscles to spasm and stop a person breathing. If you are worried that a friend or family member is using Nitrous Oxide, please contact one of our confidential health services to get support."
If you are worried about your own, or someone else's, use of nitrous oxide then support is available through the local young people's substance misuse support service, DIVERT, by calling 01709 917651, emailing their team or going to their website to talk to a member of staff through the webchat function.
Confidential advice is also available at Talk To Frank via phone on 0300 123 6600 or by visiting their website here.
Reports of discarded canisters can be made anonymously to Crimestoppers on 0800 555 111.