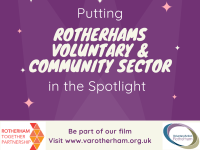 Shouting about the positive difference they make to people's lives and communities is something that voluntary organisations often shy away from.
But now more than ever, it is important that we have a spotlight on how vital the work of the sector really is.
Rotherham has hundreds of groups and organisations that provide a diverse range of support, advice and activities across the borough and there are endless examples of AMAZING work being undertaken by the sector.
These organisations go from day to day making a remarkable difference to people's lives, and quite often they are so busy doing this that they don't take the time to stop, reflect and share their positive impact. But, now is the time!
On behalf of the Rotherham Together Partnership, Voluntary Action Rotherham is developing a film highlighting the impact our groups make in our communities.
Working with students from Rotherham College we aim to produce a video made up of a mixture of pictures and video footage taken over the last 12 months. The video will showcase groups and the people they support explaining the positive difference they make to people's lives and communities.
We want groups of all sizes to get involved, send us your existing videos, pictures of activities that are currently taking place or send us a video of yourself, or someone you support, telling people how you help.
We want to highlight the incredible impact the voluntary sector in Rotherham is making, so whether you need a helping hand in pulling your footage together, or whether you just want to get the message out there - let us know!
To take part, please email Voluntary Action Rotherham, the details are below.
Deadline for submissions is 23 October 2020.
Email Kerry McGrath at Voluntary Action Rotherham
Call Voluntary Action Rotherham on 01709 829821