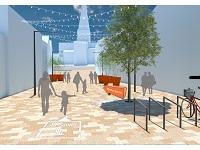 Work is due to start to improve the look and feel of the town centre's open spaces next week (21st September).
The designs for Phase One of the works on Bridgegate will provide a much needed revamp incorporating new paving and lighting aimed at improving lines of sight and giving a brighter, more modern feel to the area. Installation of the street catenary lighting has already taken place and the removal of the brick planters will open up the street to provide an open space to expand the potential opportunities for events and activities.
Rotherham Council's Cabinet Member for Jobs and the Local Economy, Cllr Denise Lelliott, said: "The improvements are all part of the Town Centre Masterplan and will complement the new housing developments and leisure scheme at Forge Island which are starting to taking shape.
"We are committed to improving the streets in the town centre which will help to ignite the regeneration of the town centre and public realm works and we're determined to make sure the area doesn't just survive but thrives."
The Council are working with PWP Design and ECB Consulting to deliver the scheme. PWP Design Director Simon Hall said "We are delighted to be involved in the Bridgegate public realm project and believe that the improvements will create a high quality, welcoming environment for visitors to the town centre".
The multi million pound regeneration of Forge Island is already moving ahead with flood defence and enabling works underway. This will help deliver the full scheme which includes a cinema, food and drink outlets, a hotel, car park and new leisure facilities.
The Council's Future High Street Fund bid has also been submitted which included plans for the markets to be developed. An announcement on whether the bid has been successful is expected in the autumn.
Indicative delivery programmes:
Site --> start --> finish
Bridgegate: September 2020 - November 2020
College Street: January 2021 - May 2021
Frederick Street: January 2021 - June 2021
Howard Street: May 2021 - July 2021
Effingham Street: February 2022 - June 2022
Riverside Gardens Upper Mill: January 2022 - September 2022