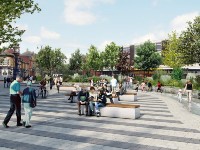 There's an opportunity for the public to view images of the proposed designs for parts of town centre open spaces that are planned as part of the Masterplan.
A public information event is being held in the Town Centre on 29th October for people to view the proposals and discuss the plans for Phase One of the works which will include College Street, Bridgegate and parts of Howard Street and Effingham Street.
The designs are intended to improve the town's open spaces by incorporating new paving, lighting and street furniture, improving lines of sight and giving a more bright, modern feel to the area. More on-street parking is also proposed for College Street.
Rotherham Council's Cabinet Member for Jobs and the Local Economy, Cllr Denise Lelliott, said: "As we deliver the town centre masterplan, new housing developments and the leisure scheme at Forge Island are taking shape. We are also committed to improving the streets in the town centre and are now able to bring forward the first proposals to do so and look forward to hearing people's views."
The multi million pound regeneration of Forge Island is already moving ahead with flood defence and enabling works underway. This will help deliver the full scheme which includes a cinema, food and drink outlets, a hotel, car park and new leisure facilities.
The Council's Future High Street Fund bid is also coming together with plans for the markets being developed.
The information event on the new look Town Centre open spaces will be held on Tuesday 29th October, between 10am and 2pm on the street market on Effingham Street (near Natwest).