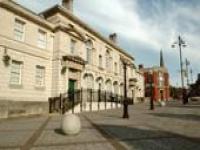 Rotherham is today named as "an area of concern" on the Government's COVID watchlist.
As infection rates climb to more than 80 cases per 100,000 people in the borough and the hospital reports 25 patients admitted with the disease.
The listing means the borough is one step closer to having tighter restrictions, like those being imposed in other areas of the country with high infection rates.
Leader of Rotherham Council Cllr Chris Read, said: "The data shows us that the infection is occurring across all areas of the borough and within all age groups. By speaking to people who have the disease we know most of them have contracted it through some form of social contact, whether that is through mixing with friends, relatives or workmates.
"We want to thank the majority of people in Rotherham who are following the guidelines. However, we need everyone else to take this situation seriously and to do what is right. Rotherham is a strong and caring community, we need the community to once again rally together to keep each other safe and to protect our most vulnerable residents and all of our frontline workers."
Consultant in public health for Rotherham, Jacqueline Wiltschinsky said: "There is a lot of false information circulating on social media about the virus. No matter what you read, the truth is this: It is only by limiting contact with people, wearing face coverings, washing hands and isolating when infectious that we can have any chance of reducing the number of people who will get sick with this disease and possibly die.
"We do not want to have tighter restrictions imposed but that is what will have to happen unless we can work together now to control the virus in Rotherham."
Appearing on the watch list is expected to see some additional testing capacity for the borough at both the local test site at Forge Island and the mobile test unit at Midland Road. The Council has released a video "walk-thru" at the local test site to give residents a clearer picture of what happens inside the site.
Local test site, Forge Island walk through