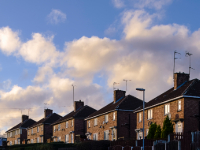 Landlords who own or manage residential property in any of the borough's six Selective Licensing areas are being urged to apply for their licence before the end of the month.
The new 2020 -2025 Selective Licensing scheme, which came into force in May, offered an extension for applications to be submitted until the end of October, to assist with the impact of the pandemic. This extension expires on the 31 October 2020. Licenses from previous licences schemes are not valid.
The scheme is targeted at improving areas which have been identified as requiring a range of help from the Council and partners, including the police, to improve the quality of life for residents. The areas covered include parts of central Rotherham, Masbrough, Eastwood, Maltby South East, Dinnington, Thurcroft and Parkgate.
The selective licensing element will ensure landlords manage their properties to a high standard whilst helping them to work with their tenants to support neighbourhoods.
Rotherham Council's Cabinet Member for Housing, Councillor Dominic Beck, said: "Selective Licensing has shown to be a successful tool in improving the standards of privately rented properties. The Council recognises that there are many good and responsible landlords in the borough and by working together we can have a big impact on housing conditions and the lives of local residents."
Landlords must ensure completed applications including the application fee are presented along with all appropriate certificates and supporting documentation, before the deadline of the 31 October to avoid a late payment fee of £136 and a criminal breech of the licensing scheme.
Fully completed applications must include the application fee of £68, presented with all appropriate certificates and supporting documentation.
Licence applications will be backdated to the scheme start date of the 1 May 2020 and will be valid until the end of this scheme or until the licence holder changes.
To submit an application and fee or view full details of the 2020-2025 selective licensing areas, go to www.rotherham.gov.uk/landlordlicensing