Council Tax collection
Published Friday, 1st August 2014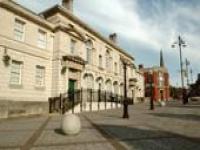 Rotherham is once again one of the top-performing authorities for its Council Tax collection rate despite the huge changes imposed by the Government.
A total of 97.1 per cent was collected in the 2013/14 financial year - meaning that the Council retained its fifth place out of 36 metropolitan authorities and makes it the top performing metropolitan authority in Yorkshire once again.
The total amount of Council Tax collected for the 2013/14 year was £94 million and the outstanding debt carried forward at March 31 was £57 per property. This was the third lowest arrears figure out of the 36 metropolitan authorities; the best in Yorkshire and the Humber and was well below the national average of £108 per property and the metropolitan average of £150 per property.
The amount of Council Tax written off during the financial year was only 0.2 per cent of the Council Tax debt for the year - the third lowest write-off percentage of the metropolitan authorities.
In its non-domestic rate collection the authority retained its fifth place with its 98.2 per cent collection rate. It was the second-best metropolitan authority in Yorkshire behind Wakefield City Council, which finished in an overall fourth place. The total amount of Non-Domestic Rates collected during the year was £75 million.
Cllr Ken Wyatt, Cabinet Member for Finance for the Council, said it was an "excellent" result for both the staff involved and the people of Rotherham at a time of massive change.
He said:"This period saw many changes to service provision as well as huge changes to the charges administered by the authority. However, both council staff and local residents responded incredibly well.
"The introduction of a new localised Council Tax Reduction Scheme, changes to empty property charges for Council Tax and the Government's welfare reform agenda resulted in an increase in customer contact.
"Telephone calls were up by 26 per cent on the previous year - equating to an additional 47,000 calls. But the authority coped well and the people of Rotherham responded, which is really heartening at a time when local authorities are being criticised by the government for their collection rates and arrears."
He added: "In the current economic climate every extra pound collected helps the Council provide much-needed services to the people across the borough. In Rotherham we adopt a firm but fair collection policy to ensure that those who can pay do so, and those that are struggling to make payments are provided assistance through benefits, discounts and advice.
"This means that it is much fairer for all those who do pay and they should be assured that where we can, we will continue to take further steps to collect the outstanding debt."