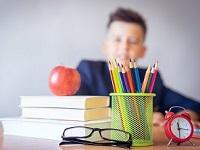 Parents of children due to start primary school in September 2021 are being urged to apply for a place at their preferred school.
Applications, made through Rotherham Council, are still open to children who were born on or between 1 September 2016 and 31 August 2017 and are resident in Rotherham.
Parents and carers have up until 15 January 2021 to apply for up to three schools of their preference. Applications can be made online however, paper copies of the application form are also available.
Anyone who applies after the closing date will be less likely to be offered a place at their preferred school. Children who cannot be accommodated at their preferred schools will be offered a place at either a school in their catchment area or the next nearest school with places available.
Children who attend a school nursery or Foundation Stage 1 must also apply as they are not automatically allocated a primary place at the school they attend.
Nathan Heath, Assistant Director for Education at Rotherham Borough Council said: "Our aim as a council is to give every child the best start in life and giving them access to good quality education on their doorstep is integral to that. Time is running out to let us know your preferred choice of primary school and it is crucial that parents and carers act now to avoid disappointment."
Following the closing date, applications are considered based on a number of criteria and parents and carers will be notified of their allocated school on National Offer Day which, this year, will be on 16 April 2021.

Visit www.rotherham.gov.uk/schools for more information or to apply online. For more information on the application process call the Admissions Team on 01709 823777.