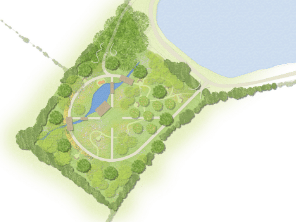 A living memorial, to honour both the victims of COVID-19 and those who fought the virus, is to open at Thrybergh Country Park in March.
The memorial has been designed in consultation with communities from across the borough as a tribute not only to people who lost their lives, but also to those who were part of the emergency response and recovery effort - from key workers to volunteers and communities.
Hope Fields will continue to be shaped by local people as it develops, providing a space where they can contemplate, heal, celebrate loved ones' lives and look forward.
Rotherham Council's Cabinet Member for Cleaner, Greener Communities, Cllr Sarah Allen said: "We know people want a range of things from this memorial. Some want a place of contemplation to help manage their pain, others want an opportunity to remember and celebrate their loved ones. Some people continue to live with the after-effects of COVID-19 and want a place to rest and recover."
Construction and landscaping have been underway over the past five months, with Council staff and the Community Payback team working to clear the site, plant trees and build a footpath through the meadow. Hope Fields will include a memorial art installation, pond and wetland, community orchard, interactive play activities and a new bird hide. To ensure the existing biodiversity is protected and enhanced, the sympathetic design will be realised over the coming months and years.
Cllr Allen added: "Our vision is that the natural beauty of Hope Fields will provide a place and a programme of activities that recognise the grief and anxiety so many are feeling, but which also supports those who want to look forward to a happier time. "
To preserve and celebrate the site's natural beauty, visitors will have the opportunity to take part in activities to remember loved ones such as sowing wild flowers or making 'Love for the Lost' eco-friendly bird feeders, rather than leaving mementos which might be a hazard for wildlife. Rotherham residents are being asked to share ideas for green tributes and activities that they would like to contribute to, via a virtual discussion on Rotherham Council's Facebook events page, taking place from 18 Feb – 3 March 2021.
Rotherham Council's Head of Creative Programming and Engagement, Leanne Buchan explained: "We want Hope Fields to continue to evolve organically, for the people of Rotherham to be part of that process. It was important to create a memorial that could grow and adapt over time as we collectively recover from COVID-19."
The site will open to the public by 27 March 2021 – one year from the first lockdown being announced. As COVID restrictions are likely to still be in place, the launch programme will include a mix of virtual and physical activities, ranging from a live-streamed dawn chorus to self-guided trails linked to the play features. Details will be published on the Rotherham Together page and the Thrybergh Country Park Facebook Page.
When it is safe to do so, the site will also bring people together and provide opportunities to take part in activities and volunteering throughout the year.
Hope Fields is the culmination of Rotherham Together – a programme of activities exploring the themes of Joy, Gratitude and Hope. Rotherham Council commissioned the programme in July 2020 to provide opportunities for communities to come together safely to support one another, and to thank its residents, communities, volunteers and key workers.
The designs have been drawn up in consultation members of the public, park users, councillors, MPs, faith groups, Council Bereavement Services, and groups such as Sheffield & Rotherham Wildlife Trust and its volunteers.