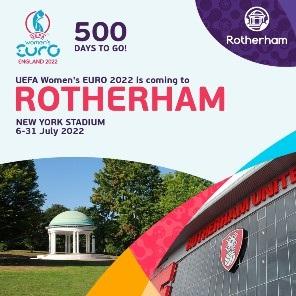 The countdown begins towards a record-breaking event coming to Rotherham that promises to be the major football tournament of summer 2022.
UEFA today unveils a brand-new identity for UEFA Women's EURO 2022, which kicks off 500 days from now. The 2022 edition in England promises to be the biggest women's football event in UEFA history, deserving of the fresh, open and contemporary look that reflects the strength, diversity and ever-growing popularity of the game.
"We're thrilled to share this new identity for the UEFA Women's EURO 2022," said UEFA chief of women's football, Nadine Kessler.
"This new branding brings a fresh look and eye-catching feel for the tournament as we begin the countdown to next summer. We can't wait to see this emblem across host cities, stadiums and television when the action begins in 500 days' time."
Rotherham Council's Cabinet Member for Cleaner, Greener Communities, Cllr Sarah Allen said: "We are so excited to be involved in the tournament. Rotherham is a hidden gem within South Yorkshire and we can't wait to welcome fans from all over Europe and the UK as well as home supporters from right here in Rotherham.
"We have some great plans for the tournament, celebrating women in sport and we're looking forward to building relationships with the Women of the World Festival, to host Rotherham's own WOW Festival."
Rotherham United Chairman Tony Stewart echoed that excitement ahead of the flagship event coming to AESSEAL New York Stadium, explaining that the opportunity to put the town and the football club on the map is something that he is greatly looking forward to.
"I think the fact that Rotherham has been chosen as one of the host venues for a tournament of this magnitude speaks volumes of the great things that are happening here, both in the town and at the club.
"We feel we have made great strides in recent years in putting Rotherham on the map and our recent success on the pitch and the national coverage that has come with that has certainly played a part in that.
"To once again have the chance to showcase what we have to offer here – this time to an audience watching from across the world – is simply fantastic and is one that I know everyone at the club and in the town will seize with both hands.
"The new branding and indeed all the work undertaken by UEFA to market the new date looks magnificent and I, for one, cannot wait until the day that we are hosting the matches."
Originally scheduled for 2021, the tournament was, like UEFA EURO 2020, postponed by a year. This guarantees increased exposure for women's football in a summer without other major football events.
As well as the new logo, extensive coverage of all 31 matches at UEFA Women's EURO 2022 will feature on free-to-air television, radio and online as 16 nations compete to be crowned European champions. This will ensure anyone, from committed or curious fans to the next generation of stars, can tune into the tournament and be part of the excitement.
"By moving the competition to 2022, we guaranteed that the biggest women's sports event in Europe receives the exclusive platform it deserves," Kessler said.
"Alongside the English FA, we are confident of delivering a first-class tournament that will attract global attention and media coverage, leaving a legacy to inspire many more girls, and boys, to take up the game."
The opening match, on 6 July 2022, will take place at Old Trafford (capacity 76,000), with the final on 31 July to be played at Wembley Stadium (90,000), meaning England's national arena will host back-to-back men's and women's UEFA EURO finals in 2021 and 2022 respectively.
In another sign of the growing status of women's competitions, the Video Assistant Referee (VAR) programme will be used throughout the finals for the first time.
UEFA's new ticketing portal is now open for fans to register for early access to tickets and stay up to date on all the latest information ahead of next year's finals.
Sign up for information on tickets for UEFA Women's EURO 2022 here.
For more information regarding the current standings and already qualified teams click here.
England 2022 venues
Brighton & Hove (Brighton & Hove Community Stadium)
London (Brentford Community Stadium & Wembley Stadium – final only)
Manchester (Manchester City Academy Stadium)
Milton Keynes (Stadium MK)
Rotherham (New York Stadium)
Sheffield (Bramall Lane)
Southampton (St Mary's Stadium)
Trafford (Old Trafford – opening game)
Wigan & Leigh (Leigh Sports Village)
The new logo is available here under UEFA Women's EURO 2022.
A special 500 Days to Go edition of the 'The Football Podcast' from UEFA Together #WePlayStrong is available now on on Spotify, Apple Music, YouTube and IGTV, featuring UEFA Chief of Women's Football, Nadine Kessler.