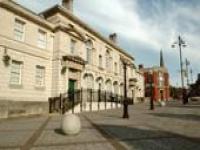 In light of the announcement about the road map of the National Lockdown easing, Rotherham Council and its health partners are calling for residents to keep vigilant.
They are also encouraging residents to get tested if they have any of the extended symptoms of COVID-19.
While Rotherham is currently doing well in stopping the spread of COVID-19 among those who are over 60 and those who are of school age, there has recently been an increase in cases of the virus in those of working age.
Residents of all ages should get tested if they show any of the core COVID-19 symptoms:
New persistent cough
Temperature
Loss of smell or taste
The Council are also advising residents of working age that they should get a test as a precaution if they have any of the following symptoms:
headaches
aches and pains
feeling very tired for no good reason
sore throat
runny nose
sneezing
Rotherham Council's Director of Public Health, Ben Anderson, said: "Residents have done a fantastic job at stopping the spread of COVID to the most vulnerable people in our communities, and we are all glad that there is light at the end of the tunnel. But we are not there yet, and locally we are actually now seeing a slight rise in cases amongst those of working age.
"There are concerns that the new, more transmissible variant is spreading within this age group, which may relate to the need to travel to and attend workplaces or wider community transmission. Overall the infection rate locally is now significantly higher than the national average. We know that the majority of businesses are doing a great job at keeping their staff safe, but the increased transmissibility of the current variant and increased interactions amongst those needing to work means that residents are still picking up the virus when they are going to work or out in the community. It's really important that we all follow the guidelines in our places of work, in the community and on public transport so that we keep safe and can get infection rates down to allow more opening up as we come out of lockdown.
"As we enter into the next few months, we all want this to be over as quickly as possible. But I cannot stress enough how important it is that everyone follows the guidelines and abides by lockdown rules, otherwise we will not make as much progress as we all want as quickly as we can. We've seen how quickly the virus can spread if given an opportunity and we know how easily the Kent variant can spread so please, stay at home where possible and continue to follow the guidelines and wear face coverings in the workplace and when out and about in the community."
Residents can book a test at one of the four local testing sites across the borough, including the new walk-through test site at Herringthorpe Stadium, or request a home test by going online at www.nhs.gov.uk/coronavirus or calling 119.
Those who test positive must self-isolate to break the chain of infection and protect those around them.
There are a range of financial support options available for those who are on low incomes or zero-hour contracts who are required to self-isolate. There are more details available on the Council's website.
Although the vaccination programme is going well across South Yorkshire, with thousands of people already having the COVID-19 jab, is very important to stay vigilant and follow the restrictions in place. Residents should not be complacent and should continue to follow the guidelines such as regularly washing their hands, wearing a face covering in public spaces, and keeping two metres from those they do not live with to stop the virus from spreading to those who have not yet had the vaccine.
Further updates about the guidelines and information about the test and trace payment scheme