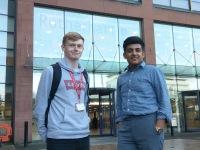 When MP's leave Westminster following the dissolution of Parliament next week, their place will be taken on the famous green benches by young people from across the country.
This will include two teenagers from Rotherham Amaan Ali Saqlain MYP and Sam Jones MYP are Rotherham's representatives on the UK Youth Parliament.
They will join 600 fellow members of the youth parliament, all aged 11-18 and democratically elected by their peers, at an annual debate in the House of Commons chamber on Friday 8 November, chaired by the Speaker of the House of Commons.
They will debate five issues, chosen in the Make Your Mark ballot of young people from across the UK, including more than 6,000 young people from Rotherham:
The environment and climate change
Knife crime
Mental Health services
Tackling hate crime
A school curriculum to prepare us for life
Following the debate, the MYPs will vote to decide which two issues should become the UK Youth Parliaments priority campaigns for the year ahead.
Sam Jones MYP, said: "Young people have pragmatic and realistic ideas and are willing to engage with policy makers over a wide range of issues. It is important that young people are consulted in decision making. UKYP makes this possible through the elected young MPs acting on the concerns raised by young people across the country in the annual Make Your Mark."
Amaan Ali Saqlain MYP, added: "It is an absolute honour to represent young people at the heart of British democracy. I hope that this sitting will voice the views of all young people across the country. Better mental health services and tackling hate crime are two issues I feel particularly passionate about, so I am pleased they are two of the topics being debated."
You can get regular updates from Sam and Amaan's day at Parliament on Friday 8 November on a Twitter takeover Rotherham Council account @RMBCPress for the day.
To keep up-to-date on the activities of Rotherham's MYPs on social media follow @UKYPRotherham on Twitter, @UKYP.Rotherham on Facebook and and Roth_YouthParliament on instagram.
The UK Youth Parliament event coincides with national Youth Work Week (4-10 November), which celebrates the support provided for young people through youth services across the country.
Rotherham Council will be highlighting the huge volume and variety of youth work here in Rotherham via its social media accounts.
Councillor Gordon Watson, Rotherham Council's Deputy Leader of Rotherham Council and Cabinet Member for Children's Services and Neighbourhood Working, said: "The vital role youth work plays in supporting young people and developing the skills they need to live, learn, work and interact with other people should not be underestimated.
"We hope Youth Work Week will help raise the profile of this important work to support our young people, at a time when the challenges and pressures they face is probably greater than ever."
Follow Rotherham Council on Twitter
Follow UK Youth Parliament Rotherham on Twitter