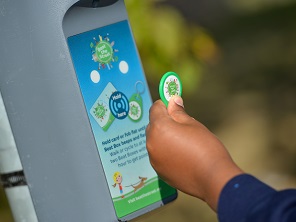 A popular physical activity game that has been played by more than 1.2m people is coming to Rotherham.
Beat the Street Rotherham is set to take place from Wednesday, 14th April for six weeks, concluding on Wednesday, 26th May. Beat the Street is a free, interactive challenge that encourages people of all ages to incorporate physical activity into their daily lives by turning the area into a six-week game.
Beat the Street is being delivered by Intelligent Health and is funded by and Rotherham Council's grant funding allocation from DfT's Sustainable Transport Access Fund and the National Lottery on behalf of Sport England.
The game is completely contactless and players take part in their family groups or support bubbles and are encouraged to walk, cycle, run, wheel or scoot as far as possible within the local area, with prizes for the teams that clock up the highest number of miles.
Beeping and flashing sensors called Beat Boxes will be placed on lampposts around the area for the duration of the six-week game. Primary school pupils should receive a pack via school containing a fob, a card for an adult to play, and a map. The wider community can pick up a card from one of the distribution centres that will be announced shortly at www.beatthestreet.me/rotherham
When the game launches, players form virtual teams, then walk, run, roll, scoot or cycle between the Beat Boxes scoring points with their fobs or cards as they go. The more Beat Boxes on your journey, the more points you score for their community or school team. Each week is themed with different activities to help participants get the most out of their Beat the Street experience.
Beat the Street was invented by Dr William Bird who realised that many health conditions could be improved if people were encouraged to go out for a walk in a green space. It has been played in more than 100 towns and cities across the UK and beyond, including Barnsley who played in 2019 where more than 25,000 people signed up and together travelled 144,810 miles, as well as Chesterfield who played in 2020; their 13,800 players travelled 143,132 miles.
The game has been since been adapted to ensure that it's safe to play during the COVID-19 pandemic and has been approved by Public Health England. The sensors have been adapted to make them more sensitive so that you don't need to touch them. Players can simply hover their card or fob near the sensor and it will register the swipe. Further measures such as temporary pavement markings to help remind players about social distancing have also be put in place.
As well as encouraging people to get active, Beat the Street has been shown to get communities more engaged, less car-dependent and fitter which is vital in the fight against COVID-19.
Rotherham Council Cabinet Member for Public Health, Cllr David Roche, said: "We are delighted to bring this innovative and compelling game to Rotherham and we can't wait to see how far everyone is able to walk, run, cycle, roll and scoot as part of their daily exercise during the Beat the Street challenge.
"We know that lockdown has impacted people's activity levels and Beat the Street gives a safe and stimulating way for young people and families to get out and get active with a purpose. It's clear that now, more than ever, it is vitally important to ensure that we adopt healthy lifestyle habits around incorporating physical activity into our days and trying to travel in more active ways by walking or cycling. Of course it is still important that we follow the current restrictions as we engage in this".