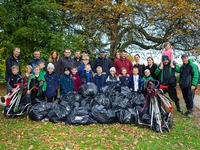 Junior footballers have raised £2,000 during a sponsored litter pick at Rosehill Victoria Park in Rawmarsh with support from the Love Where You Live campaign.
Rawmarsh St Joseph's Junior Football Under 13s and Under 7s teams put on their winter coats and grabbed a litter picker to collect over 50 bags worth of rubbish from park, in the process raising a phenomenal £2,000 for their team.
The equipment for the 3 hour litter pick was provided by Rotherham Council's Love Where You Live scheme which gives residents the opportunity to get involved to make their communities greener, safer places to live in.
Shane Horne, Rawmarsh St Joseph's Under 13s Green team manager, said: "We had a very successful day making a difference to the community we live in while raising money for the team. Our U7s group had never done a litter pick before but enjoyed themselves thoroughly.
"I recommend getting involved in a sponsored litter pick to other junior football clubs as gives back to the community and raises awareness of keeping places tidy, as well as helping to raise money for the team."
Love Where You Live was introduced three years ago by the Council, starting with 100 volunteers. Since then, there are over 1,100 volunteers who routinely take part in community activities from organising litter picks to reporting a range of issues such as faulty streetlamps, fly tipping and potholes
Over the past 12 months alone there have been over 460 litter picks organised by individuals, charities and social groups across the whole of Rotherham.
Rotherham Council's Cabinet Member for Cleaner, Greener Communities, Cllr Sarah Allen said: "It is fantastic to see so many young people and their families giving back to their community. The Love Where You Live programme allows the public to get involved in making the areas where they live cleaner, greener and healthier.
"We work with a vast number of individuals and social groups to organise litter picks, like this one, providing all the equipment necessary and collecting the rubbish at the end of the activity. Getting involved couldn't be simpler, all you need to do is get in touch with our team to get started."
To find out more about Love Where You Live or to organise or to join a litter pick in your community, visit the Council's website.