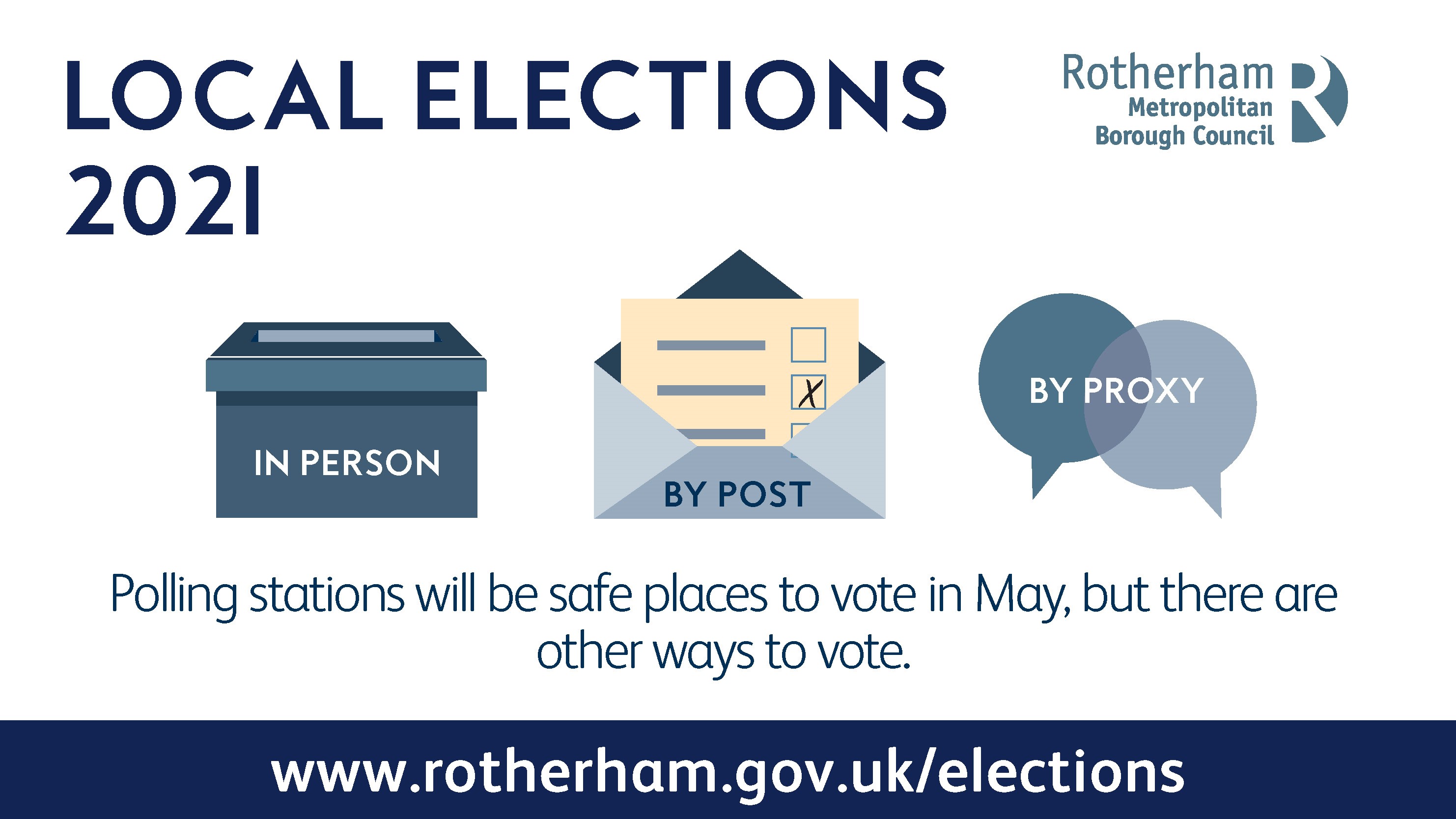 The official notices for this year's elections have been published today (23 March 2021).
Polls to elect all Rotherham Borough Councillors, the South Yorkshire Police and Crime Commissioner and parish councillors across the borough will take place on Thursday 6 May. Parish councils too are up for election this year, and there is also a neighbourhood planning referendum in the Dinnington St John's parish area.
Work is underway to ensure that the elections are conducted as safely as possible, including measures such as transparent screens and providing hand sanitiser at polling stations. Voters, however, have other options they can consider if they do not want to vote in person themselves.
In person
Those who choose to vote in person at their polling station may notice that extra measures are in place to protect themselves and staff from potential spread of infection. To aid social distancing, there will be a limit on how many voters will be allowed inside at once, which means voters may have to wait longer than usual. Hand sanitiser will be provided at entrances and exits, and one-way systems will be in place. Polling booths and equipment will be cleaned regularly throughout the day, and transparent screens will be in place.

Poll staff will wear personal protective equipment, and voters must also wear face coverings unless they have a medical exemption.
Postal voting
Registered electors can apply for a postal vote. Postal voting means that you do not need to go your polling station if you would prefer not to or can't.

The Council will send your ballot paper to your home ahead of the election and you just need to follow the instructions that come with it and post your vote to back as soon as possible. It must arrive before 10pm on Thursday 6 May. Postal votes are sent out around two to three weeks before election day.

You can apply for a postal vote for different time periods: for one election, a set period of time or permanently. If you are a postal voter, you cannot vote at a polling station.
Proxy voting
You can also apply for somebody to cast your vote on your behalf, known as a proxy. To be eligible for proxy voting both you and your proxy must be registered to vote.

If you appoint a proxy, you can vote if you wish, but only if your proxy has not already voted on your behalf and has not got a postal vote for you.

Applying for a postal or proxy vote
You can find more information about applying for a postal or proxy vote on the Council website here. Alternatively, you can call the electoral services team on 01709 336010 and they will send you an application form.

The deadline for us to receive applications to vote by post is 5pm on Tuesday 20 April. The deadline for us to receive applications to vote by proxy is 5pm on Tuesday 27 April.

The officical notices for the local elections can be found here.