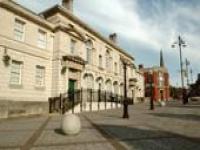 Residents across Rotherham are being urged to follow to social distancing guidelines and only meet in groups of up to six people or two household outdoors as cases of COVID-19 increase.
The increase of cases in Rotherham now means that the infection rate in borough is the highest in the UK.
The infection rate on 1 April 2021 for all ages in the borough is 168.4 which is an increase from 144.7 for the week before. The current national average for infections rates per 100,000 for all ages is 55.4.
There has also been an increase of cases within the 60+ age range from 32.2 to 54.2.
Rotherham Council's Director of Public Health, Ben Anderson, said: "With the warmer weather around the corner and the cautious relaxation of the Lockdown rules, it is tempting for people to meet with their friends and family members. I am urging residents to stick to the guidelines: do not gather in groups of more than six people from two households, and if you meet with people outside your household or support bubble, follow the two metre social distancing guidelines. You must not meet with people you do not live with indoors.
"The increase in cases in the over 60s is of particular concern as this shows transmission between the age groups. It is important that those who have been vaccinated understand that it is still possible to catch and spread the disease after vaccination and some people may still get quite ill. Following the social distancing guidance once vaccinated is still important while case rates remain high. If you do feel unwell, you must get tested and self-isolate at home. The sooner you get tested and stay at home, the better this is for the people around you. Support for self-isolation is available to help you stay at home for the full time, and those not doing so may be fined £1,000.
"Coming out of lockdown is the first time Rotherham residents are being exposed to the more transmissible new variant without restrictions in place, creating a real risk of a further wave. Residents have already sacrificed so much during the last year and we do not want to see this hard work go to waste now. Please, stick to the guidelines and remember: hands, face, space, fresh air."
From Monday 29 March, the Government lifted some of the Lockdown restrictions which means people in England can now:
meet with 6 people or 2 households in an outdoor setting, such as a park, a beach or a private garden – however, social distancing must still be followed.
go to outdoor sports facilities such as tennis and basketball courts, and open-air swimming pools as long as they follow social distancing guidelines.
take part in formally organised outdoor sports, e.g. sports games organised by a recognised club, charity, or public body.
Further information and guidance about COVID-19