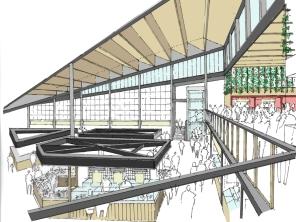 Rotherham has been awarded £12.6m to help the transformation of the town centre.
Last year, Rotherham Council put forward a bid to the Future High Streets Fund (FHSF) to help deliver some of its redevelopment plans.
This week, the Government officially awarded funds to 57 town centre plans across the country – and Rotherham is one of them.
News that the funding was set to be approved was announced in late December 2020, but now official confirmation has been given.
It means Rotherham Council's plans to redevelop Rotherham Markets and deliver a new central library can go ahead. The funds will also support the new Riverside Gardens (part of the Forge Island leisure scheme), improvements to public realm across the town centre, and the expansion and development of Grimm and Co's new home on Ship Hill.
Rotherham Council's Cabinet Member for Jobs and the Local Economy Cllr Denise Lelliott said: "We have been pushing for this funding for a while so we are delighted that this money has now been confirmed. The plans that we put forward were big, and they needed to be.
"Our popular market has been the soul of Rotherham town centre for over 800 years, since its establishment in 1207, and the funding will enable a new era for this space with the ambitious regeneration and improvement works including re-location of the town centre library to provide a real community hub in this part of town."
Improvements to the town's open spaces is already happening with Bridgegate complete and College Street in progress, incorporating new paving, lighting and street furniture, with further works now to come. Demolition of the former Riverside Precinct will take place next month, opening up the views of the river, Rotherham Minster and wider town centre, and making way for the new Riverside Gardens.
Meanwhile, the expansion of Grimm and Co includes a major refurbishment of the former Talbot Lane Methodist Church, with the new funds ensuring the charity can develop its vision and continue to support children and young people build their confidence and skills around creativity and writing.
A Rotherham Town Centre Investment Fund, which was established by the Council to deliver the Town Centre Masterplan, is funding the town centre regeneration with further funding being sought from other sources including the FHSF, Sheffield City Region Mayoral Combined Authority and the Government's Transforming Cities Fund.
The Town Centre Masterplan sets out the Council's vision, moving towards a more diverse mix of uses with a focus on residential and leisure, quality open spaces and better connectivity.
Rotherham Council is building solid foundations with its partners, with the new University Centre, refurbished bus station and the Tram Train service already in place. Work on Forge Island (including flood defence and enabling works almost complete) is bringing the town another step closer to the exciting cinema and leisure scheme, and preparations being made for a new Pocket Park on High Street. A further £30 million is being invested in three new town centre housing developments.