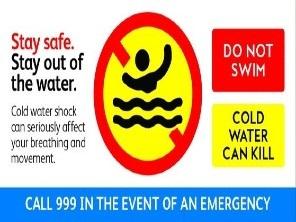 Rotherham residents are being urged to stay away from open water as high temperatures are forecast to continue over the coming weeks.
The warning comes following the tragic death of 16-year-old Sam Haycock, who sadly drowned after jumping into Ulley Reservoir.
However tempting it may be during periods of hot weather, members of the public are reminded not to go swimming in open water in reservoirs, rivers or canals, even if the water looks calm.
There could be strong hidden currents or rubbish and debris under the water line as well as very cold temperatures which can hinder swimming abilities.
Sam sadly passed away last week after getting into difficulty and struggling with the shock of the cold water.
Rotherham Council's Cabinet Member for Social Inclusion Cllr David Sheppard: "This was a very tragic incident and sadly this could happen to anyone, of any age, adult or child. No matter how hot the weather is and how tempting it is to take a dip, the water can be very cold. No matter how strong a swimmer you are, you are susceptible to cold water shock.
"Lakes, pools, rivers and quarries have many hidden dangers, and you can very quickly and easily get into trouble. Sadly, we have seen too many lives lost in these circumstances. We must all appreciate these risks and look out for each other."
South Yorkshire Fire & Rescue Area Manager, Stewart Nicholson, said: "Too many young lives are needlessly lost in open water every year. Our message couldn't be clearer- please, please stay out of the water and stick to swimming pools or organised swimming groups instead."
The effect on the body of entering water 15°C and below is often underestimated. It can seriously affect your breathing and movement. The sudden cooling causes an involuntary gasp for breath and increases breathing uncontrollably which leads to panic and inhaling water.
If you do find yourself entering the water unexpectedly:
Take a minute. The initial effects of cold water pass in less than a minute so don't try to swim straight away.
Relax and float on your back to catch your breath. Try to get hold of something that will help you float.
Keep calm then call for help or swim for safety if you're able.
Stay safe, stay out of the water.
Further information on cold water shock can be found here