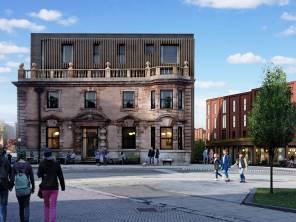 Rotherham has been awarded £31.6 million to carry out ambitious regeneration projects across the town centre, Eastwood and Templeborough.
Rotherham Council submitted a bid to the Towns Fund in January of this year, following a public consultation, and it has now been announced (8 June) that the town has received one of the largest awards.
Rotherham was one of 101 areas invited to produce a Town Investment Plan for economic growth, in order to access up to £25m of government funding, with the possibility of additional funds for exceptional and particularly credible plans.
The Council's Cabinet Member for Jobs and the Local Economy, Cllr Denise Lelliott, said: "A huge amount of hard work has gone in to securing this investment over the past 18 months and I'm really pleased to see that effort rewarded with funding which will complement other schemes already underway to regenerate our town and create jobs.
"It is testament to the quality and vision of those plans that Rotherham's bid has not only been successful, but secured a higher-level investment than many other places.
"We're excited to now begin working with our partners and stakeholders to deliver these projects, which form a central plank of our plans to build a better borough for all of Rotherham's residents."
The Town Investment Plan focuses on a number of schemes deliverable within five years. These include creating a Riverside Residential Quarter and better access to enjoy the waterfront; regenerating the Guest & Chrimes heritage site to provide attractive public spaces and leisure facilities; providing improved housing and local connectivity for Eastwood; and creating a new heart for the business community in Templeborough by making under-used sites productive again, improving travel connections and creating new spaces for hospitality and meetings.
This funding will also enable work to go ahead to create attractive public spaces and transform derelict heritage buildings on High Street and Corporation Street - creating a gateway from the Minster Gardens across to the new Forge Island leisure development.
Through this investment the Council will also be able to support development of a new mainline station for Rotherham.
The Prime Minister announced the £3.6 billion Towns Fund to support an initial 101 town deals across England in July 2019. In September 2019, the government invited 100 places to develop proposals for a Town Deal. The overarching aims of the Towns Fund are to drive the sustainable economic regeneration of towns to deliver long term economic and productivity growth.