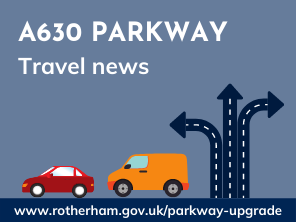 The Rotherham to Sheffield A630 Parkway will have a series of overnight closures throughout June, July and August as improvement works continue.
The £46 million investment will create an extra lane in each direction between Catcliffe Junction and the M1 (within the road's existing footprint) and widen the roundabout and slip roads at M1 Junction 33.
This summer will see the first phase of the works complete, with the existing central safety barrier removed, new drainage in place and a road surface installed in the former central reservation.
In the second phase work will be focused on the verge of westbound carriageway, including construction of the retaining wall and the installation of new drainage, highway surface, street lighting and safety barriers.
Rotherham Council's Cabinet Member for Transport and Environment, Cllr Dominic Beck, said: "The A630 Parkway is a vital connection between Rotherham and Sheffield, and with the M1. It's exciting to see phase one of the work completing and to move a step closer to the delivery of this scheme, which will benefit our region's residents and road users by reducing congestion, pollution and journey times."
During the second phase of the work, two lanes will operate in both directions during the daytime using the eastbound carriageway and former central reservation.
The overnight road closures this summer are necessary to complete tasks such as installing additional safety fencing where the A630 meets the M1 J33, changing the way traffic is directed through the roadworks and allowing routine maintenance work to take place alongside the improvements.
Closures will happen on week and weekend nights, with the road being closed in one direction at a time. Details of the dates and times can be found at www.rotherham.gov.uk/parkway-upgrade
Eastbound traffic (from Sheffield towards the M1) will be diverted via Rotherham: Europa Link, A631 Shepcote Lane, M1 Junction 34 Tinsley, A6178 Sheffield Road, A630 Centenary Way and A630 West Bawtry Road.
Westbound traffic (from the M1 towards Sheffield) will be diverted via Rotherham: A630 West Bawtry Road, A630 Centenary Way, A6178 Sheffield Road, M1 J34 Tinsley, A631 Shepcote Lane and Europa Link.
The road improvement work is being carried out on behalf of Rotherham Council by its contractor Balfour Beatty and is funded through Central Government from the Local Growth Fund. The Council and Balfour Beatty are working closely with stakeholders including Highways England, Sheffield City Council and the Environment Agency to deliver the scheme.
To be alerted to the latest information for travellers and Rotherham residents, as well as general updates on the project, follow Rotherham Council on Facebook and Twitter (#A630Parkway).